Coastcom AIM Advanced Intelligent Multiplexer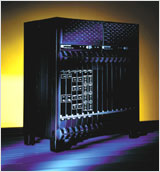 AIM Advanced Intelligent Multiplexer

AIM – Advanced Intelligent Multiplexer

Coastcom's AIM —Advanced Intelligent Multiplexer is a next-generation multi-service access concentrator for integrated access to Time-Division Multiplexing (TDM), Asynchronous Transfer Mode (ATM), Frame Relay, and SONET networks.

AIM provides a highly resilient, cost-effective solution for today's broadband needs as well as a transition vehicle to tomorrow's technologies. Offering carrier-class access, AIM integrates voice/data services with up to 60 full and fractional T1s and multiple T3s. AIM functions ideally as a 0/1/3 multiplexer, allowing complex voice/data grooming at the DS0 level. The system architecture will allow connection of up to 1,020 full duplex DS0s in any mix of DS1s and DS3s. AIM fully merges diverse traffic, including POTS, synchronous data, TCP/IP, Frame Relay, and ATM in a compact, modular platform. With superior scalability, high port density, multiple levels of redundancy, and flexible bandwidth allocation, AIM supports diverse customer traffic while protecting your communications investment.

Featuring:

Programmable bandwidth allocation to cost-effectively manage trunk bandwidth

Input from Ethernet LANs, routers, digital PBXs,
terminal servers, and Frame Relay assemblers/disassembles (FRAD)

Operation over a mix of transmission facilities

T1/T3 drop-and-insert mode of operation

Full cross-connect capability of 1,020 full duplex DS0s supporting as many as 60 T1s

0/1/3 multiplexing and grooming

Extensive array of hardware and link-protection options to maximize system availability

Simplified network management with AIM-Net® and Simple Network Management Protocol (SNMP)

AIM's feature-rich platform provides a cost-effective solution to grow your business:

Carrier-Class Access

Superior Scalability

High-Port Density

Flexible Bandwidth Allocation

Intelligence By Design AIM's intelligence allows you to provision and control your network through the local loop to user locations so you can quickly and efficiently respond to new requirements. AIM cost-effectively manages trunk bandwidth, enabling you to program bandwidth allocation for individual customers. Multiple user applications can be bundled onto a single access link and unbundled at geographically dispersed locations. Combined with Coastcom's user-friendly AIM-Net graphical interface, AIM users can remotely build and verify voice/data connections with point-and-click ease.

With AIM's embedded SNMP agent, a network manager can perform network configuration as well as obtain performance reports, collect statistics, and monitor alarms. The SNMP agent can be accessed via Ethernet and serial ports using a common Web browser. AIM also functions with standard SNMP management platforms.

For maximum fault tolerance, AIM nodes can easily be configured with redundant power, common controllers, and port interfaces. AIM has the capability to automatically re-route traffic around failed transmission facilities based on the customer's business requirements. AIM detects and recovers from component failures as well as failures within attached WANs.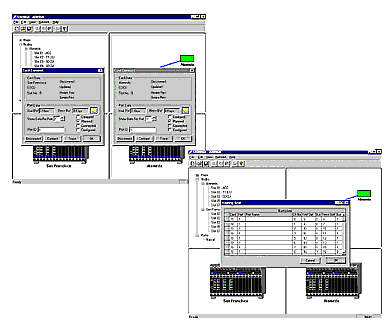 | | |
| --- | --- |
| Traffic Types | T1, T3, synchronous data, frame relay, T1 ATM, SONET and Ethernet |
| Transmission | T1, T3 |
| Channel Service Unit (CSU) | Integrated |
| Modes of Operation | Drop-and-insert, channel bank |
| Maximum System Capacity | Up to 60 T1, full cross connect capability of up to 1,020 full duplex DS0s |
| Switching Techniques | Circuit |
| Data Interfaces | RS-232, RS-449/442, V.35 |
| LAN Interfaces | Ethernet (10Base-T) |
Call 301-924-7400 ext. 17 for Information and Pricing

Coastcom Products