Carrier Access NetworkValet
Element Management System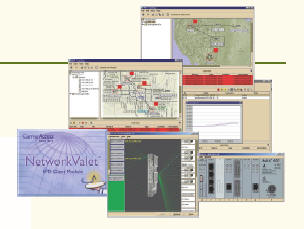 Reduce costs and accelerate revenues with remote management made simple
Call us for Pre-sales and discount pricing on Carrier Access Products
301-924-7400 Support
NetworkValetTM is an Enhanced Management System designed to meet the mission-critical transport and access-management
needs of service providers. With a user-friendly Graphical User Interface (GUI), NetworkValet is built on a JavaTM framework
that is CORBA®-compliant and OSS-capable. Network managers can remotely monitor deployed Carrier Access network elements
through the most widely employed interfaces, including SNMP, TL1, CLI, and CORBA. The result is a remote management
solution that enables productive and cost-effective management, monitoring, configuration, and provisioning of Carrier
Access devices throughout the network.

Remotely manage, configure and provision Carrier Access devices

With NetworkValet, customers deploying Access Bank® II, Access Navigator®, Adit 105, Adit 600, Axxius 800, and Wide
Bank 28 products will further decrease the already-low cost of ownership by significantly reducing the number of truck rolls
required for routine configuration, maintenance and troubleshooting activities. Remote product configuration and provisioning
for carrier-quality voice, high-speed data and broadband Internet access services can be accomplished down to the DS0 level
from the Network Operations Center (NOC).

NetworkValet automatically detects new Carrier Access elements, allowing most users to immediately begin managing these
elements after completing the basic configuration process. NetworkValet receives alarms associated with line outages,
downed links and failed cards directly from the network elements as they occur in real-time. The built-in topology view can
group elements geographically by region, state, city, building, or sub-network, providing drill-down network views and simplifying
troubleshooting and element management. NetworkValet is a simple and effective element management tool, freeing
time for service providers to focus on turning up more customers.

Safe and secure management
Service providers can count on NetworkValet's security features to safeguard their valued network elements. System or network
administrators can customize user access based on the functionality they want to assign to users. NetworkValet continues
the Carrier Access tradition of providing robust, cost-effective tools that help service providers enhance profitability while
meeting or exceeding customer expectations.

Key Features:

• Manages, configures and provisions network elements remotely from multiple sites
• Allows NOC technicians to save and restore product configurations from a central location
• Remotely upgrade equipment firmware
• Bandwidth availability reporting for network capacity planning and easy identification of up-selling opportunities for
increased service bill revenues
• Performance reporting to proactively identify DS1 and DS3 circuit conditions
• High-availability server provides continued operation in the event of a primary server failure
• Developed entirely in Java for software platform interoperability
Supported Network Elements:
• Access Bank II (via Access Navigator using FDL)
• Access Navigator (Releases 1.6 through 1.7)
• Adit 105/205 (Releases 1.2 through 2.0)
• Adit 600 (Releases 1.4.1 through 3.2.0)
• Adit 600 Router Service Card (Releases 1.1 through 1.32)
• Axxius 800 (Release 1.0)
• Wide Bank 28/STS-1 (Release 2.0)
• Wide Bank 28/DS3 (Releases 2.0 through 2.3)
• Other RFC 1213-compliant devices
The NetworkValet software package contains three -applications engineered to work together seamlessly:
• NetworkValet EMS Client
• NetworkValet EMS Server
• ValetTM standalone GUI
NOC-based Server Application:
The NetworkValet EMS Server application collects data to report to the client application and enables management, configuration, provisioning, and alarms. It simultaneously interacts with multiple clients to better manage regional or national NEs. The NetworkValet server is typically deployed at the NOC and serves as the single collection point for SNMP traps and all other management information.
• Supports Windows NT® , Windows® 2000, and SolarisTM versions 2.6 and above (JavaTM Runtime Environment Version 1.3.0)
• Typical installation: Minimum memory size of 256 MB RAM or more, depending on the number of NEs
• 100 MB hard disk space (additional disk space may be required for larger networks)
• Supports CloudscapeTM version 3.6 and OracleTM databases (8.1.7, 8.1.6, 8.1.5, 8.0.6, 8.0.5, 8.0.4, and 7.3.4)
NOC-based Client GUI:
The NetworkValet EMS Client is a NOC-based GUI application that provides a user-friendly interface to interact with the NetworkValet EMS Server to remotely monitor, manage, provision, and configure NEs.
• Supports Windows NT® (recommended), Windows® 98, Windows® 2000 (recommended), Windows ME®, and Solaris versions 2.6 and above (recommended)
• Minimum memory size of 128 MB RAM recommended for Windows®
• 60 MB hard disk space for NetworkValet Client on PCs running Windows® operating systems
Standalone Field-use Application:
The NetworkValet also includes Valet, a free, standalone software package that allows field technicians to locally configure and provision Carrier Access network elements.
• Supports Windows NT® (recommended), Windows® 98, Windows® 2000, Windows ME®
• Minimum memory size of 128 MB RAM recommended for Windows®
• 60 MB hard disk space for Valet on PCs running Windows® operating systems
SNMP MIBs:
• Standard MIBs supported:
- RFC 1213
- RFC 1215
- RFC 1659
- RFC 1907
- RFC 2011
- RFC 2233
- RFC 2493
- RFC 2494
- RFC 2495 (supercedes RFC 1406)
- RFC 2496 (supercedes RFC 1407)
• Additional MIBs supported:
- Access Navigator (Releases 1.6 through 1.7)
- Adit 105/205 (Releases 1.2 through 2.0)
- Adit 600 (Releases 1.4.1 through 3.2)
- Adit 600 Router Service Card (Releases 1.1 through 1.32)
- Axxius 800 (Release 1.0)
- Wide Bank 28/STS-1 (Release 2.0)
- Wide Bank 28/DS3 (Releases through 2.3)