Carrier Access Broadmore 1700
TDM-to-ATM Circuit Conversion for ATM Networks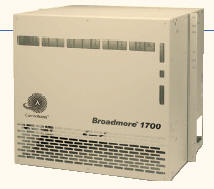 Logically provision circuits at the optical edge of your network
Call us for Pre-sales and discount pricing on Carrier Access Products
301-924-7400 Support
Experience greater provisioning efficiency
The Broadmore 1700 offers a uniquely economical means of provisioning, grooming, and routing DS3, DS1, E3, E1 and high-speed serial data circuits using logical ATM connections. The cost and complexities of equipping and managing SONET and Digital Cross-Connect (DCS) circuits are replaced by the speed, capacity, and cost improvements of logical ATM circuit provisioning leveraging existing SONET optical networks. The Broadmore 1700 converts and aggregates TDM circuits such as T1, E1, DS3, and E3 ů into Serial data, OC-3c/STM-1c or OC-12c/STM-4c ATM connections. TDM-to-ATM conversion is accomplished using standards-based ATM Circuit Emulation Service (CES) supporting both Permanent Virtual Circuits (PVCs) and Switched Virtual Circuits (SVCs). The integrity of TDM traffic is maintained, while providing the benefits and efficiency of ATM transport for converged voice and data access networks.
Virtually eliminate legacy TDM digital cross-connect systems
With its logical circuit management capabilities, the Broadmore 1700 improves the use of carrier infrastructures by efficiently converting and packing structured circuits into ATM optical connections. It can be deployed at access POPs or as a circuit formation žfront-endÓ to ATM core switches. Only those DS3, T1, E1, or DS0 fractions that are needed for carrier service revenue are groomed into the network. Circuits can be routed, tested, and restored using broadband ATM switches at a lower cost than that associated with traditional circuit transportation methods involving Add/Drop Multiplexers (ADMs) and 3:3, 3:1 or 3:1:0 TDM DCS systems. Additional circuits or fractional circuits to access networks can be added on a daily basis with simple keystrokes.
Recent release enhancements have extended Broadmore flexibility by providing additional command security including user authentication, audit trails, session privacy and user-editable SNMP community strings. With an optional feature, the latest stringent government security requirements are supported, including RSA SecurID∆ for user authentication and SecSH network and management security.
Key Features
Delivers structured DS3, DS1 and E1 and unstructured DS3, E3, DS1, E1 or serial data circuits to an ATM network using standards-based CES
ATM conversion eliminates the need for ADM and 3:3, 3:1 or 3:1:0 TDM DCS products for circuit transport applications DS3 circuit provisioning from OC-3c or OC-12c at a fraction of the cost of TDM SONET
Maximizes existing investment in high-capacity SONET equipment