Carrier Access
Access Exchange
Intelligent Channel Bank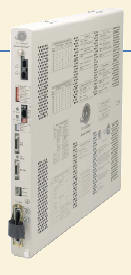 Combines CSU/DSU, Digital Cross-Connect Switch (DCS),
channel bank, and call router features in single product
Call us for Pre-sales and discount pricing on Carrier Access Products
301-924-7400 Support
Features At-A-Glance:
• Integrates voice and data to reduce monthly data access costs by eliminating separate 56 Kbps lines
• Economically increases data speeds to 1.5 Mbps over a single line
• Packs under-utilized T1 voice access lines with SNMP/Ethernet managed data
• Provides dual T1 CSU/DSU connectivity for dual carrier connections or increasing bandwidth to 3.0 Mbps
• Minimizes per-minute costs of local and long distance services, while maintaining existing local number terminations, including 411, 911, 8XX, and other special calling features
• Reduces monthly access costs by decreasing the need for LEC analog lines
• Requires no upgrades to customer phone systems

Routes and translates local and long-distance calls
The Access ExchangeTM combines the features of an intelligent CSU/DSU, Digital Cross-Connect Switch (DCS), channel bank, and call router in a single product. Economical local and long distance services, DID (Direct Inward Dial) and high-speed data can be accessed without changes to customer telephone equipment. The Access Exchange optimizes the use of T1 circuits with its ability to route and translate local and long distance calls. Typically located on the customer premises, Access Exchange terminates all voice and data services over one or two T1 lines and allows Interexchange Carriers (IXCs) or other service providers to offer local phone service without deploying local switches. The Access Exchange translates local phone numbers to 11 digit numbers so that a Class 4 switch can handle local numbers. The carrier can offer local phone service directly from these switches, and the subscriber can utilize the benefits of Automatic Route Selection without having to upgrade their PBX or key system. The IXC can then offer local services along with long distance, which maximizes the use of connections and increases revenue opportunities for the carrier.
Maximize Data and Voice Revenue
If the T1 is not fully utilized for local or long distance trunks, the Access Exchange can fill the balance of the T1 with data via the V.35 interface or second T1 interface. Legacy 56 Kbps data connections can be increased to high-speed 128 Kbps to 1.5 Mbps connections, while saving monthly access costs. The Access Exchange allows carriers to maximize revenue on one or two T1 access lines by packing the pipe with other communications. Carriers or customers can manage the routing database from a centralized location via the Ethernet SNMP management port on the Access Exchange. Database changes to area codes or revenue generating services can be made from the NOC without trips to the site, minimizing disruption to the customer's normal operations.

Access Exchange Ordering

Carrier Access Products
Purchase orders accepted on Carrier Access Equipment