Carrier Access Access Bank I
Carrier-class Channel Bank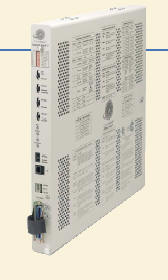 Multiple voice services from a single T1. The Access Bankฎ I
provides standard FXS, FXO, and other common analog line services
up to 24 lines from a single T1.
Call us for Pre-sales and discount pricing on Carrier Access Access Bank I
301-924-7400 Support
Access Bank I
Easily provision varied analog voice services from T1
Compact device converts digital services to analog circuits
The Access Bankฎ I is an economical, compact device for converting T1 digital access services to 12 or 24 individual analog telephone circuits. Six different types of 12-channel and 4+8 channel telephone line interface cards provide a variety of analog line services, including:
| | | | | |
| --- | --- | --- | --- | --- |
| BRFXS | DPO | DPT | E & M | FXO |
| FXS | FXSDN | PLARD | SPOTS | TO |
The Access Bank I automatically adapts to changing line conditions, providing a clear, echo-free transmission path at all times.
Minimize deployment time
Designed for speedy deployment, the Access Bank I provides installation instructions right on the case. Configuration is done via DIP switches and self-test routines to ensure that all circuits are operable. The design incorporates an integrated CSU, allowing direct T1 line connection and monitoring.
In-service maintenance capabilities include hot-swappable line cards, channel LEDs and fuseless protection of all interfaces. A remote management option with Windowsฎ GUI software and built-in modem is also available.
Direct connection to full CLASS features
The Access Bank I TR-08 option offers direct digital T1 connection to Class 5 local switch interfaces, eliminating the need for analog conversion of line connections at the Central Office. TR-08 signaling can be provisioned for physically separate shelves. Unlike trunk-side T1 switch connections, line-side TR-08 connections supply full CLASSSM features directly to customer phone lines.
Features At-A-Glance:

Supports carrier-class service delivery with on- and off-premises wiring, automatic line balancing and full power ringing
Printed instructions on the case allow easy provisioning and servicing with minimal training
Low power consumption with –48 VDC inputs and AC charger with economical eight-hour battery backup option
Compact size (1 RU), wall or rack-mount allows convenient space-saving installations
Fuseless line protection, fanless cooling and solid-state signaling increase service availability
TR-08 software option supplies direct customer connection to CLASS features
Management:
• Optional remote Windows-based GUI management with built-in modem
• Front panel T1 test switches and status LEDs
• Back panel analog channel option, test switches, and status LEDs
• Built-in T1 self-test and telephone line ringing and tone tests
Digital T1 Interface:
• Terminates 1.536 Mbps (24 channels) of usable bandwidth
• Integrated intelligent CSU: DS1 or DSX-1 signal levels from 0 to –30 dB
• D4 (SF), ESF framing, and SLC-96 framing with TR-08 option
• AMI or B8ZS line coding
• Clock source: Enhanced Stratum 4 (master) or synchronized to T1 line Telcordia™ TR-08 shelf, A, B, C, or D function
(optional)
Analog Interfaces:
• FXS 12-channel card: Supports CLASS features; provides loop-start, ground-start, E&M signaling conversion and calling party disconnect
• BRFXS/DPO 12-channel card: Supports CLASS features; operates as a Battery Reversal FXS loop-start card (BRFXS) or a Dial Pulse Origination (DPO) card
FXO/DPT 12-channel card: Supports CLASS features; operates in FXO loop or ground-start signaling or Dial Pulse Terminate (DPT) signaling; E&M signaling conversion and calling party disconnect
• 4 FXO + 8 FXS modular voice card: Supports 4 FXO/DPT circuits and 8 FXS circuits as described above
• 4-Wire E&M /TO 12-channel card: Supports signaling types I, II, IV or V; uses up to 4 signaling and transmission pairs per channel (E/M, SG/SB, T/R and TI/RI)
• 2-Wire E&M/TO 12-channel card: Supports signaling types I, II, IV or V; uses up to 3 signaling and transmission pairs per channel (E/M, SG/SB and T/R)
• Patented automatic two-wire analog impedance adjustment adapts to various modems and line lengths
• Full compatibility with V.34 (33.6 Kbps) and V.90 (56 Kbps) modems
Alarms:
• Optional alarm dial-out notification over integrated modem (remote management option)
• External alarm contact for visible or audible alarms
Power:
• –48 VDC 1A input from battery source
• Optional 115 VAC/75 W power converter
• Optional 220 VAC/50 Hz to –48 VDC converter module for international applications
• Solid-state fuseless overvoltage and overcurrent protection
Regulatory Approvals:
• FCC Part 68: CS-03 listed — telephone line interfaces
• FCC Part 15: Class A Radiated Emissions Control
• NRTL safety listed: UL 1459, CSA
• National Electrical Code 1996 safety requirements
Physical:
• Dimensions:
- 1.75 in. (H) x 17 in. (W) x 17.75 in. (D)
- 4.45 cm (H) x 43.18 cm (W) x 45.09 cm (D)
• Weight: 14.5 lb. (6.6 kg) fully loaded
• Rackmount: 19 in. (48.26 cm) or 23 in. (58.42 cm)
• Twenty-four Access Bank Is can be mounted in a standard 7 ft. (2.13 m), 23 in. (58.42 cm) equipment rack
• Optional Trimount bracket to wall mount 3 Access Banks and power converters
Environment:
• Normal operating temperature: 32ฐ to 122ฐF (0ฐ to 50ฐC)
• Solid-state over-temperature protection
• Relative humidity (non-condensing) range: 0% to 95%
Accessories:
• Optional Customer Premises Equipment Battery
Backup unit (120 VAC to –48 VDC power) for up to eight hours of uninterrupted power protection
• Flush wall mount, desktop or 19 in. rack mount (multi-function brackets included)
• Optional trimount bracket for wall mounting of three Access Banks and power converters
access bank i configuration & ordering

Carrier Access Products
Purchase orders accepted on Carrier Access Equipment