Carrier Access MASTERseries IAD Platform
where wireless meets wire . . .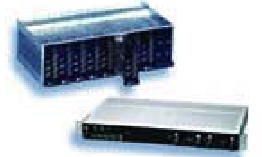 Call us for Pre-sales and discount pricing on Carrier Access MASTERseries Platform
301-924-7400 Support
Carrier Access MASTERseries IAD Platform

Carrier Access MASTERseries is used for Radio Access Network - RAN hubbing and concentration, Cell site integrated access, Cell site LAN extension/IP aggregation, site to site ADPCM transcoding (voice compression), and
Fault tolerant SS7 transport.
Benefits:

Reduces backhaul circuit costs with granular channel grooming and optional transcoding
Reduces operating expenses with remote management, integrated BERT, and test capability
Eliminates cell site POTS lines with optional IP routing and portable FXS ports
Reduces service outages with a rugged platform, lightning protection, and automatic protection switching (APS)
Reduces capital costs of buying single purpose devices with a multi-services modular platform
Reduces space and power requirements with a compact design

Features:

Mix-and-match application modules and plug-on adapters provide: - T1 or E1 CSUs - V.35 or R530 DSUs - 1/0 Digital Crossconnect System (DCS) - 2:1 ADPCM transcoder - IP/IPX router - Inverse multiplexer - Portable FXS voice ports - 10/100 Ethernet hub

Modules operate in three different chassis: - single, dual, and eight module configurations
Support for up to 32 full or fractional T1/E1 links
Support for up to 30 data portsSupport for up to 16 Ethernet ports
Unrestricted NxN crossconnect of DSO channels
Optional IP access router on all modules
Optional DS0-granular ADPCM transcoding
Supports channelized and unchannelized T1 and E1
Hot-swappable modules and power supplies AC, +24VDC, -48VDC power options with optional redundancy
Environmentally hardened (-40 degrees C to +65 degrees C) with lightning protection that exceeds Bellcore standards
Mean Time Between Failure (MTBF) of over 60 years
Integrated Bit Error Rate Tester (BERT)
IP-based remote management and control
Remote software-definable configuration and upgrades
Event-driven automatic protection switching (APS) across all installed modules
Future upgrade to ATM services support

Applications:

Radio Access Network (RAN) hubbing and concentration
Cell site integrated access
Cell site LAN extension/IP aggregation
Site to site ADPCM transcoding (voice compression)
Fault tolerant SS7 transport
Application Modules

PATHmaster
?a T1/E1 compact digital crossconnect switch with integrated DSU/CSU functionality targeted at hub locations, base station sites, and customer premises. The PATHmaster comes in two, three, and four T1/E1 port configurations and each includes two V.35 or RS-530 data ports. Two- and three-port versions are remotely software-upgradeable to activate all four ports.

TRANSmaster
?expands the capabilities of the PATH master by adding 2:1 ADPCM voice compression for supporting dual mode AMPS and digital cell sites. The TRANSmaster is also used for MTSO-to-MTSO and PSTN connection applications.

BANDmaster
?a four T1/E1 inverse multiplexer with integrated crossconnect capability that is used to front-end microwave radios for high-speed data applications and/or to provide multi-megabyte data connectivity at branch offices.

DATAmaster
?a high-density four port serial module that is used for data channel bank applications such as SS7 channel consolidation between mobile switching center locations.

LINKmaster
?a multi-link CSU that provides connections for up to two full or fractional T1/E1 circuits. The LINKmaster provides four T1/E1 ports with integral CSU/DSX-1 circuitry on all links. The LINKmaster functions as a low cost dual CSU or repeater application module and is remotely software-upgradeable to full PATHmaster functionality.

HUBmaster
?a five-port 10/100 MB Ethernet hub. The HUBmaster is environmentally hardened and expands the number of Ethernet ports available while conserving space.

PORTmaster
?a quad-port Ethernet 10/100 hub with a quad port asynchronous terminal server that expands the capabilities of the PACKETcore IP bridge/router module to provide additional Ethernet hub ports and to network-enable the remote management and control of serial devices that might otherwise be unreachable.

Plug-on Modules & IP Routing

PACKETcore
?a compact, high performance IP/IPX router that is an optional upgrade to the MASTERseries application modules, excluding HUBmaster and DATAmaster. It features integrated firewall, a single 10/100 Ethernet port, two serial ports, and robust IP/IPX routing.

TELEport
?a portable full function FXS port that is used to eliminate costly POTS lines at BTS sites by integrating standard PSTN connectivity into the T1/E1 backhaul circuit. The TELEport?s unique portability allows for the plug-on to be shared between BTS locations and used only when needed ? further reducing the costs associated with direct PSTN connectivity at cell sites.

PACKETport
?a full function, portable IP access router designed to provide cost-effective LAN connectivity in cell sites and remote locations.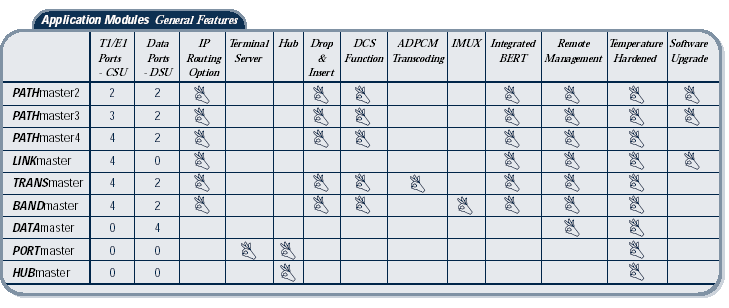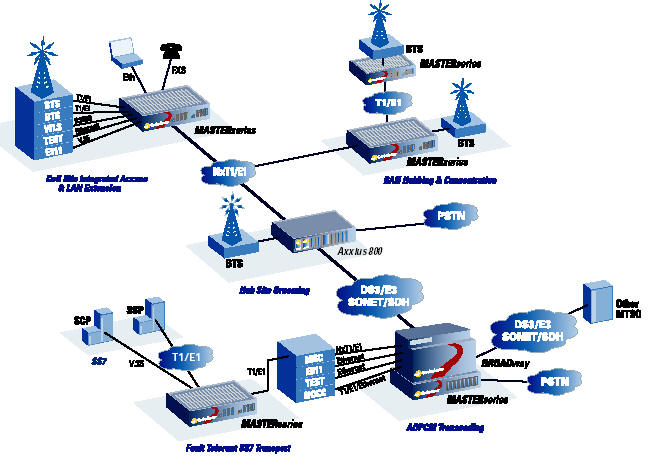 MASTERseries Configuration and Ordering Page

Carrier Access Products Page

Purchase orders accepted on Axxius 800 Integrated Device equipment