Carrier Access Adit 600
Integrated Access Device T1 Networks

Adit 600 Broadband Customer Service Terminal which fulfills many channel bank, multiport CSU/DSU, Integrated Access Device, distributed DLC and Digital Cross-connect applications. Supports up to 18 T1s or E1s, 48 voice channels, 40 ISDN BRI ports, 12 V.35 ports, 24 All-Rate OCU-DP ports. Integrated SNMP and GUI management software. The most versatile small access platform available.
Call us for Pre-sales and discount pricing on Carrier Access Adit 600
301-924-7400 Support
Carrier Access Adit 600
Scalable, Modular Integrated Access Device for T1 Networks
The AditTM 600 Customer Service Terminal is the ideal solution for delivering broadband voice and data services to small- and medium-sized businesses. It lets local and interexchange carriers and wireless service providers offer their customers a wide variety of bundled voice and data services including business lines (for phones, modems, and fax machines); PBX trunks for phone systems; IP routing and high-speed data lines for computer networks, Internet, e-commerce, video on demand, multimedia applications; as well as 1/0 DCS capabilities for cell sites. The Adit 600 defines a new class of equipment that combines multi-network access, multimedia transport, and multi-service delivery into one platform. The result is an extremely cost-effective, compact and flexible solution that enables service providers to deliver business voice, Internet access, high-speed data, and private line services using the most economical broadband access available today.
Its modular design and architecture allows seamless migration to new technologies and applications so service providers can address future access needs confidently and completely. As they become available, newer service modules are made available through new service interface cards and software updates. In this way, the Adit 600 will support emerging technologies such as IP telephony and softswitching ? leveraging the installed base of Adit 600s without substantial additional capital investment. Deploying it now also ensures service providers will no longer have to discard existing access devices to accommodate future network requirements.
Traditional business voice services, including POTS, DID, CLASSSM, and Centrex are supported in the basic Adit 600 platform. Other services can be easily added ? with little time, effort or cost ? by provisioning different service cards.
An international version is also available.
Features
Scalable bandwidth and capacity
1 to 18 T1s
The ideal solution for meeting the demands of businesses, the Adit 600 can meet growing service and bandwidth requirements by allowing providers to incrementally increase bandwidth by connecting additional T1 lines. It has the capacity to connect up to 18 T1s. The Adit 600 has full network access drop-and-insert capabilities with an integrated 1/0 cross-connect matrix to provide full non-blocking connectivity between any of the six service card slots. This allows any of the 18 T1s to be provisioned as network interface trunks or drop-and-insert fractional T1 tributaries.
Unmatched business-centric service density
Six service card slots provide up to 48 voice lines or any mix of voice and high-speed data services
The Adit 600 provides expansive network and service capacity within an incredibly small unit. With six slots for service cards, it can provide connections for a broad combination of voice and data services. This enables deployment of up to 48 phone lines per chassis or up to 96 lines in two rack units.
A variety of services and cards are available for the Adit 600. For a complete listing, please refer to the Spec Sheets and Guides section on the right-hand side of this page.
Simple installation
Up and running in just 15 minutes with minimal training
A compact unit designed for simplified wall or rack mounting, the Adit 600 can be installed in as little as 15 minutes ? on the customer site, at the service provider?s central office or point of presence in the phone network, with minimal training, enabling carriers to substantially reduce installation and training costs. In addition, it can be powered by 110 VAC or ?48 VDC with its standard power supply (featuring an integrated battery charger) or from the Adit +24 VDC Power Supply. The Speedway? optional mounting assembly is available to simplify and speed the deployment of the Adit 600 in wiring closets and other similar locations.
Remote end-to-end management
All the way up to the service demarcation point at customer site
NetworkValet? EMS enables service providers to reduce service and maintenance costs by remotely configuring, monitoring and testing the Adit 600 from anywhere on the network. Remote operators can make instantaneous service changes, check the operation of the equipment, and often fix problems without having to send a service technician to the customer?s site. This remote end-to-end management enables the operator to control and test the equipment right up to the service demarcation point.
Always-on availability
Fail-safe design; carrier-quality service; UL 1950 and NEBS certified
The Adit 600 is designed to be the most dependable product in its class. In addition to meeting exceptionally high design standards, it is manufactured in a world-class ISO 9001 facility where it meets the highest quality standards. It features a built-in battery charger so that an external rechargeable battery pack can easily be connected to provide up to eight hours of back-up protection in the event of a power failure.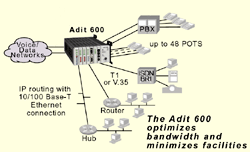 Adit 600 Configuration and Ordering Information

Carrier Access Products
Purchase orders accepted on Adit 600 Integrated Device equipment
Contract Buying and Volume Discounts available !!



MasterCard, Visa, American Express and Discover