Canoga Perkins UCS 1001-MIL
Universal Chassis System
UCS1001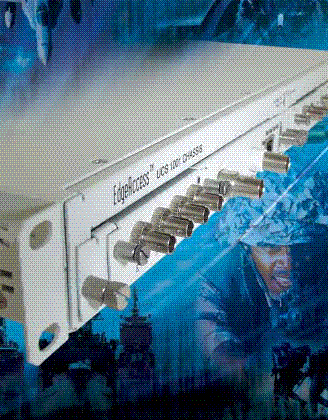 Canoga Perkins UCS 1001-MIL
Universal Chassis System UCS1001-MIL
Gig
The EdgeAccess

? Universal Chassis System 1001 is a general purpose, 1U, two slot, UCS chassis. Flexible and scalable, the UCS 1001 accommodates the entire Canoga Perkins? Universal Chassis System product line, including Optical Transponders and Repeaters, Wave Division Multiplexing, 10/100/1000 Ethernet, T-1/E-1 Modems and T-3 Modems. Hot swappable modules provide a variety of interface options and flexibility of services to be deployed for maximum flexibility of communications and C3 assets for mission critical applications.

The UCS Model 1001 Chassis is an ideal solution when a combination of T-1/E-1, T-3, WDM and/or Ethernet circuits is required. The UCS1001 Chassis complements the UCS 1000 5U Chassis for installations where only one or two modules are required, thus offering a lower cost and smaller footprint utilizing less rack space. The chassis accommodates fully redundant T-1/E-1 and T-3 modems and redundant power supplies.

All modules inserted into the two are hot swappable for easy replacement without interrupting the operation of the other module. This provides immediate recovery time. The UCS1001 Chassis Backplane provides communication between two redundant modules and automatic switch over to the off-line module in case of module or fiber link failure. The off-line module can be replaced without interrupting the operation of it?s sister module. The backup or redundant line is continually monitored for availability and performance by the active module and management. The UCS1001 Chassis is built to the same exacting telephone company NEBS Level 3* requirements as other UCS Products. The UCS 1001 Chassis has the robustness to insure high availability of mission critical applications.
Canoga Perkins UCS 1001-MIL

Universal Chassis System60UCS1001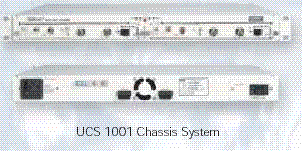 Fully Modular Chassis built Telco Tough
Fault Tolerant and Redundant
Cost Effective, Low Entry Price
Modularity for Flexibility and Ease of Maintenance
Dual AC, Dual DC, or AC/DC Power Supply Combinations
Input and Output Alarm Relays
Built to demanding NEBS Level 3 Specifications
Hot Swappable Modules
UCS 1000 MODULES & OPTIONS PAGE