Canoga Perkins L650 Series
6001 Fiber Singlers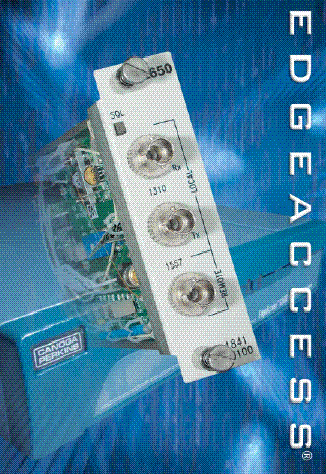 Canoga Perkins

L600 Series 6001 Fiber Singlers


Gig
Fiber Singlers offer a cost-effective solution for connecting two 1310nm devices over an individual single mode fiber. This doubles the available fiber currently in place or fiber planned for future expansion. The L650 Series is an 8Mbps to 622Mbps protocol transparent transponder with an integral WDM element, which combines the transmit and receive optical paths onto a single fiber.

Service providers can monitor bandwidth usage and provision limits on circuit speed with the SpeedCop™ option. A passive Fiber Singler 6001 can be used at the remote end when the end equipment supports a loss budget adequate for the attenuation link. Fiber Singlers are part of the EdgeAccess® Universal Chassis System (UCS), and as such, benefit from a full suite of advanced management, fault tolerance, and redundancy features. One or two L650s can be housed in a 6100 Management Access Module or a stand alone enclosure.

Common applications include point-to-point (chassis-to-chassis) configurations for high-density metro or enterprise. A chassis-to-stand alone configuration is normally utilized for Star or Access solutions. Use of active modules at both ends of the fiber link enables longer distances and allows the use of low-cost multimode interfaces on the end equipment.
Features Canoga Perkins L650 Series 6001 Fiber Singlers
Doubles Existing Fiber Capacity
Metro, Access, Enterprise, SAN, and Campus Applications
Point-to-Point or Star Configurations
8Mbps to 622Mbps Protocol Transparent Modules
SpeedCop™ Bandwidth Monitor
Optical Power Level and Squelch Switches
Active or Passive Remote Devices
Available in Rack Mount and Standalone Configurations