Canoga Perkins OADM
Drop and Continue or Drop and Insert
Multiplexer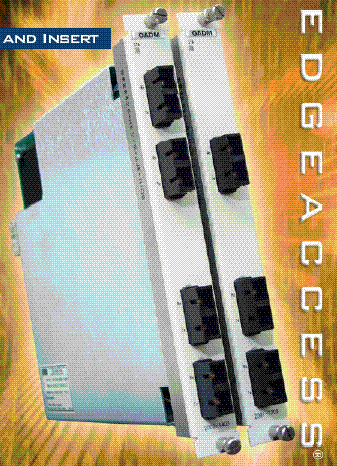 Canoga Perkins OADM
Drop and Continue or Drop and Insert Multiplexer
Gig
To maximize fiber efficiency, Canoga Perkins introduces the passive OADM, Optical Add/Drop Multiplexer, product line. Canoga Perkins offers two types of OADMs: Drop and Continue or Drop and Insert. The passive OADM module allows users to drop a specific optical wavelength at any point in the application or insert another wavelength to the link. This can be done on one pair of singlemode fiber instead of multiple pairs. Drop and Continue allows the user to drop a discrete wavelength from the optical link while allowing the rest of the wavelengths to pass. This creates a virtual point-to-point application from any site along the link back to the central location. (See Figure 1 below).

Drop and Insert is similar to Drop and Continue. While allowing the composite wavelengths to continue, it also allows the insertion of another wavelength to the link. This creates virtual point-to-point applications from the site to the central location, or point-to-point from one site to another. (See Figure 2 below).

The OADM modules are completely passive and can support any protocol when used in conjunction with Canoga Perkins? CWDM transponder product line. NEBS Level 3 Certification allows the OADMs to be used in Central Office locations, co-location with carrier class equipment or with Canoga Perkins? UCS 1000 Technology platform.
Canoga Perkins OADM Drop and Continue or Drop and Insert Multiplexer
6052425 Rev B
Passive Module
Protocol Transparent
Low-cost
Low Insertion Loss
Drop and Insert Channels or Drop and Continue Channels
ITU Standard CWDM Wavelengths
Full Native Mode Performance
Easy Installation and Operation
UCS Rackmount or Standalone