Canoga Perkins 2361 UCS T1 E1
Fiber Optic Modem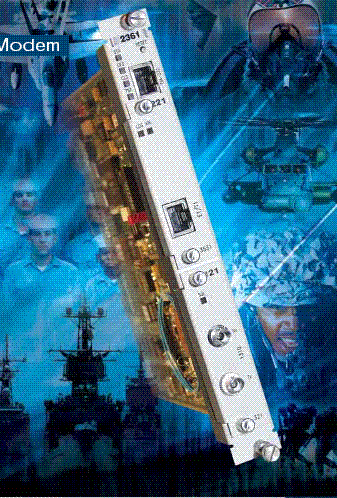 Canoga Perkins 2361 UCS T1 E1
Fiber Optic Modem
Gig
The EdgeAccess® Model 2361 is a SNMP managed multifeatured fiber optic modem that optically extends T-1 (1.544 Mbps) and E-1 (2.048 Mbps) over single mode or multimode fiber optic cable. It is a microprocessor based modem and is ANSI and ITU G.703 complaint.

The 2361 is designed to expand capabilities of data communications infrastructure for cryptographic, security and satellite downlink, telephony and other applications. Remote management of the T-1 or E-1 communication link allows services to be deployed for maximum flexibility of communications and C3 assets for mission critical applications.

The 2361 is modular in design for flexibility and serviceability. It is comprised of three modules: Main Module, Electrical Line Interface (ELIM), and Optical Line Interface (OLIM), all are hot swappable. It is transparent to line coding and transports AMI and B8ZS, D4, ESF and unframed data streams. The Main module is available in rack mount and standalone versions. The Standalone version is disk/shelf mount and has optional wall mount and rack mount brackets. The rackmount version mounts in the UCS1000 Chassis, providing capacity for up to 15 modems.

To reduce circuit down time and increase available of mission critical applications, full modem fiber redundancy including fiber path protection is available. Failure of the on-line fiber or modem causes automatic switchover to the off-line modem and fiber facility. An integral RS-232 port on the modem provides a menu driven management interface. SNMP interface is provided via the UCS1000 Platform and the standalone version, providing end-to-end monitoring and configuration. CanogaView Smart Element Manager, a GUI based manager, supports the 2361.
Canoga Perkins 2361 UCS T1 E1 Fiber Optic Modem
Optically Extends T-1 and E-1 up to 100km
ANSI T1-403 and ITU G.703, G.824 Compliant
850nm Multimode, 1310nm and 1550nm Single Mode Optics
Transparent to AMI and B8ZS Line Codes, Passes Bipolar Violations
Hot Swappable Main Module, ELIMs and OLIMs
Full Modem Redundancy Option
End-to-End SideBand Management Channel
Management Interfaces for Local and Remote Terminals, SLIP, PPP, and SNMP
Diagnostic LEDs, V.54 Compliant Loopback Support Continuous End-to-End Self-Test
Input and Output Alarm Relays
UCS 1000 MODULES & OPTIONS PAGE