VERSO iMarc 9123 and 9126

T1/FT1 CSU/DSU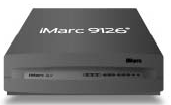 Intelligent T1/FT1 access products with advanced diagnostics and Service Level Management features
An Intelligent T1/FT1 CSU/DSU Solution
The iMarc 9123 and 9126 are ideal for providing customer premise termination of T1 and fractional T1 services including:
Leased Lines
Frame Relay/PPP access facilities

IP networks that use Frame Relay/PPP as the layer-2 protocol
TDM drop and insert to a DSX port (provides T1 channelized voice or data user interface) (9126 only)
With features that help sites get in service faster, stay up longer, and get repaired sooner, iMarc is built to support the most demanding enterprise network environments. iMarc provides versatility needed to adapt to changes in network technology as new services and applications are introduced.
A Flexible Next Generation Access Device
The iMarc 9123/9126 CSU/DSUs are available in two feature sets:
Basic diagnostic feature set provides basic frame relay and diagnostic capability.
Service Level Management (SLM) provides basic features, plus reporting and monitoring.
Full Service Level Management (SLM) capability can be activated in units that have the basic diagnostic feature set at any time. This is an optional feature that adds real-time and historical network performance monitoring and SLA (Service Level Agreement) reporting capabilities to your iMarc unit and network.
An Intelligent Demarcation
The iMarc? 9123 and 9126 CSU/DSUs are components in the family of intelligent iMarc access products This iMarc 9123/9126 CSU/DSUs allows you to perform end-to-end service level management across a Frame Relay network and provides important benefits for large-scale deployment of frame relay service, including full diagnostic and SLM functionality, proactive and historical diagnostics, SLM software upgradeability, and critical QoS capabilities to ensure the quality of service required for each application.
Simplified Management
The iMarc 9123 and 9126 offer simplified, cost effective end-to-end network management capabilities. It provides service providers and enterprise customers the ability to verify SLAs, isolate performance problems, determine appropriate bandwidth needs, and monitor network trends to aid in future capacity planning.