UDS DDS/MR56 / Motorola DDS/MR56
Motorola UDS DDS/MR56
MULTIRATE DSU / CSU TO 56KBPS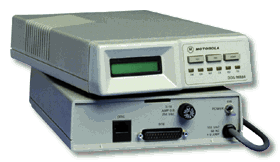 Motorola DDS/MR56 Modem
Designed for use on the Digital Data Service (DDS) network, the
Motorola DDS/MR56 combines the functions of a DSU and CSU into a
single unit. It operates in either point-to-point or multipoint
applications, transmitting synchronous data at rates of 1.2 to 56
Kbps, and asynchronous data from 1.2 to 57.6 Kbps. In addition to DDS
network operation, the DDS/MR56 can operate as a limited distance
modem. As a limited distance modem, the DDS/MR56 provides serial,
full-duplex transmission at the rates listed, as well as synchonous 64
Kbps over private 4-wire winloaded twisted-pair cable systems.
EIA-232 and CCITT V.35 interfaces
ISO-2593 compatible
Front panel LCD control
Motorola UDS DDS/MR56 ( Used UDS DDS/MR56 ) ( Used UDS Equipment )