DDS/MR64 DSU/CSU
DDS-MR64 DDS/MR64 DDSMR64 MR64

LIKE NEW / REFURBISHED / USED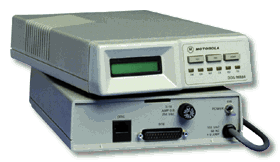 Transmits sync data at rates from 2.4K to 64K clear channel; async from 2.4K to 57.6 K DSU and CSU in a single unit LCD & LEDs display data rate, test information, and network status Point-to-point or multipoint application Operates as a limited distance modem on twisted pair Integral diagnostics for troubleshooting problems EIA-232 and V.35 interfaces, includes V.35 adapter
Two flexible versions to choose from:

DDS/MR64 Standalone


UDS Motorola Telenetics
TEL-6456524700020 DDSMR64 Standalone

DDS/MR64 RM16M Nest Card
For use in Data Shelf enclosures
UDS Motorola Telenetics
TEL-6456524700010 DDSMR64 Nest Card

With the MR64 you have an easy migration path to higher speeds by supporting all DDS line rates in a single unit: Async rates from 2400 bps to 57.6 kbps, and sync rates from 2400 bps to 64 kbps Clear Channel.

With the MR64 you have a

dded versatility to operate as a limited distance modem over unloaded twisted-pair cable, with maximum distances up to 28 miles (19 gauge wire).

With the MR64 you have automatic line equalization which ensures optimum performance and reliability in extended range applications.

With the MR64 you get Switch-configurable EIA-232 or V.35 interfaces for built-in flexibility.

With the MR64 Convenient 32-character LCD for easy configuration.

The MR64 is fully test loop compatible with DDS/MR56 and MR1.

Two-year repair/return warranty from Telenetics.
Operation
Full-duplex, 1-channel, asynchronous/synchronous, point-to- point or multipoint DSU/CSU or limited distance modem (LDM) solution.
Data Rates
2.4, 4.8, 9.6, 19.2, 56, and 64* kbps. Customer Interface: Physical: DB25 (F).
Electrical
EIA-232 or V.35, user selectable, with supplied V.35 (F) adapter.
DDS Line Requirements
DATAPHONE Digital Services DDS I or DDS II.
LDM Line Requirements
19- to 26-gauge 4-wire unloaded twisted pair.
Line Interface
RJ48S
Size
7 in. (W) x 2.5 in. (H) x 9.6 in. (D); Wt.: 2.75 lbs. Power: 115 VAC; 5 Watts.
FCC Reg. #
AK3USA-21190-DE-N.
Cables Supplied
RJ48 to RJ48 (6 ft.); RJ45 to Spade Lug (8 ft.). * 64 kbps Clear Channel, sync transmission only.
6456524600010 RM16M DDS/MR64
6456524700020 DDS/MR64 S/A