UDS-Motorola 2860
Bell 208 - 201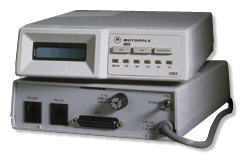 VDC - VAC powered modem
Reliable, high quality 4,800/2,400 bps transmission compatible with Bell 201B/C, 201BC/AS (DPSK 4 phase), 208A/B and 208 AB/AS (DPSK 8 phase) modems. Versatile transmission compatible with both Bell 201 BC/AS and 208 A/B in one modem with DC - AC Voltage and Multi-Point / Multi-Drop, Dial, 2 or 4 wire lease line.
Stand Alone and Rack Mount

2 or 4 wire Lease Line or Dial

Multi-Point / Multi-Drop

Synchronous or Asynchronous

Auto-answer for unattended operation - also includes manual- answer, manual-call.
Auto-dialing utilizing bisync, SDLC, or parallel 801 protocols.
Convenient, user-friendly 32-character LCD allows 3-button, front-panel programming and dialing with up to 36 characters.
Self-testing and condition reporting to ensure smooth, uninterrupted operation.
EIA-232 and CCITT V.24 compatible.
Superior performance over unconditioned lines via advanced adaptive equalization.