Telenetics MIU9.6FP Telenetics MIU9.6FPLV FlashPoll Modem

Telenetics MIU Telenetics MIU9.6FP Telenetics MIU9.6FPLV FlashPoll Modem
Modem Interface Units AC/DC POWERED
SUBSTATION HARDENED
Telenetics MIU9.6FP Telenetics MIU9.6FPLV FlashPoll Modem
Description
Telenetics MIU Industrial Grade Modems
To service the growing need for efficient, reliable data communications in the harsh environments of utility substations and industrial facilities, has developed the Telenetics MIU family of Industrial grade modem products that can operate from various AC/DC power supplies and survive high surge levels and extreme heat and cold. All this without compromising the performance expected from state-of-the-art communications devices.
These modems are individually suited for dial up and leased line applications. Unless otherwise specified, standard voltage is 48 to 220 VAC or DC. For low voltage option (9-36VDC) add "-LV" to Model number.

Telenetics MIU9.6FP 9600 bps, FlashPoll Modem
Telenetics MIU9.6FPLV 9600 bps, FlashPoll Modem Low Voltage (9-36VDC)

Specifications
Telenetics MIU2.4
Telenetics MIU9.6FP
Telenetics Telenetics MIU14.4
Modem Line
14400, 9600,
2400, 1200,
4800, 9600,
Speeds:
4800, 2400,
300bps
14400bps
Asynchronous
1200, 300bps
DTE Rates: above
modem line speeds
4800, 9600,
57.6, 38.4,
?
(ie; with data
14400bps
19.2kbps
compression)
V.22bis, V.22
V.32bis, V.32
V.22bis, V.22
Standards:
Bell 212A
V.27 & V.29
Bell 212A,
Bell 103
Bell 103
Dial Up
Telenetics MIU2.4
Telenetics MIU14.4
2 & 4-Wire
No
Telenetics MIU9.6FP
Telenetics MIU14.4L1
Leased Line
Hayes? Extended
Hayes? Extended AT
Compatibility
None
AT Command Set
Command Set
Error Correction/
MNP 2, 4, 5 & 10
Data Compression
None
None
V.42, V.42bis
Power Supply
48VAC/DC to 220VAC/DC (Optional 9-36VDC)
Power Connector
4-ft AC Cord with 3-Pin Screw Terminal connector included
Case Size
5-3/8? x 4? x 1-3/8?
Digital Port
RS232 with DB9 Connector
Analog Port
RJ-11 Modular Jack
Surge Protection
8kV [Exceeds IEC801-4]
(Power Line)
(20kV [IE801-5] available if required)
Surge Protection
(Analog Line)
5kVac
3.75VAC
3.75kVac
Environment
-40?C to +85?C, 0 to 95% humidity (non-condensing)
Certifications
FCC Part 68, Industry Canada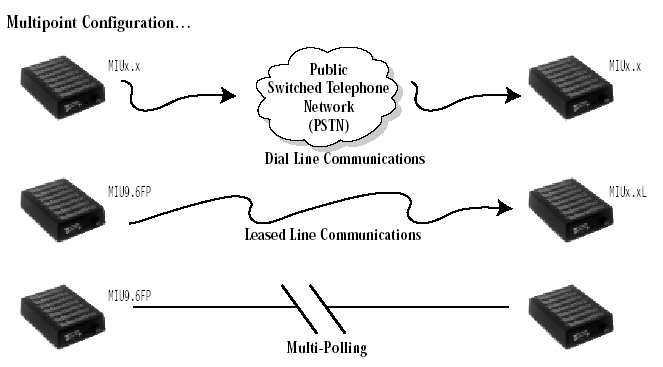 Data Connect only offers and stocks like new and refurbished Telenetics product
Great Warranty and Pricing. Why buy new? !!
Please contact us 301-924-7400
Email us at sales@data-connect.com