Rhino R1T1 Card
Rhino T1/E1/J1 Single Port PCI Plug-In Card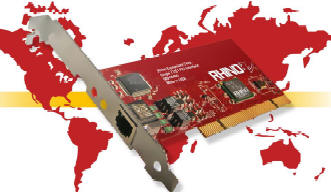 •Asterisk soft PBX tested and ready

•Zaptel compliant open source module source code included
•T1/E1/J1 embedded CSU
•Line buildout software selectable
•Custom Rhino PCI interface chip means no wasted CPU overhead
•Fractional voice and data capable
•Zttool compliant interface
•Field software upgradable
•Alarm and Link status LEDs visible from the rear bracket
•E&M, PRI, Loop, Ground, Kewl, etc, signaling protocols
•Distinctive ring in Loop start mode
•Caller ID enabled in Loop start mode
•5-year limited warranty
•Unlimited Support

All Rhino PCI T1 cards feature a single chip integrated CSU with both LIU and Framer, that is software controlled and software programmable

•Complete T1/DS1/ISDN-PRI/E1/J1 Transceiver Functionality
•Long-Haul and Short-Haul Line Interface for Clock/Data Recovery and Waveshaping
•Crystal-Less Jitter Attenuator
•Fully Independent Transmit and Receive Functionality
•Single chip line interface unit (LIU) and Framer

Using Asterisk?

Rhino is part of the Asterisk community.

Each Rhino is fully compatible with Asterisk; Rhino channel banks feature the Rhino-only automatic setup option called "Auto T1" making installation a breeze.

Reduce the cost of your Asterisk system with the Rhino Channel Bank.

With the Rhino you can use your current analog phones and wiring in conjunction with leading edge Asterisk technology-- without upgrading to new expensive internet capable phones. This way, internet phone calls can still be made with the equipment you are already using.

Rhino products are tough. In the rare case of trouble, our technical support staff is ready to give you the support you need, when you need it. The Rhino 5-year limited warranty means that you can be confident that Rhino will always work hard and work well in your T1 application.
Rhino Open Source Telephony PCI products allow you to utilize analog phones and wiring in conjunction with leading-edge Asterisk technology -- without having to buy expensive IP telephones. Why go IP when you can save on installations by using your existing wiring? With Rhino you can use lower cost analog phones with digital features and get guaranteed T1 voice quality, all while enjoying Asterisk VoIP technology for off-premise connectivity.