Rhino Quad FXO Analog PCI Plug-In Card R4FXO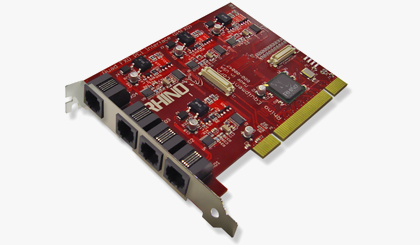 •Asterisk soft PBX tested and ready

•Zaptel-compliant open source Linux module source code
•Proven Silicon Labs FXO DAA component - Si3050
•Silicon Labs international line interface device - Si3019
•Custom Rhino PCI interface chip means no excess CPU overhead
•Four RJ11 jacks at card bracket
•Field software upgradable
•All major signaling modes supported
•Loop start signaling for advanced features such as Caller ID and Distinctive Ring

•5-year limited warranty
•Unlimited Support


Rhino PCI plug-in cards satisfy the needs of Open Source Telephony (OST) applications, no matter how stringent the requirement. Rhino Open Source Telephony PCI cards feature Asterisk and Linux tested software. Knowing that Rhino products are ready to perform right out of the box means that you can spend more time developing important customer relationships.

Using Asterisk?

Rhino is part of the Asterisk community.

Each Rhino is fully compatible with Asterisk; Rhino channel banks feature the Rhino-only automatic setup option called "Auto T1" making installation a breeze.

Reduce the cost of your Asterisk system with the Rhino Channel Bank.

With the Rhino you can use your current analog phones and wiring in conjunction with leading edge Asterisk technology-- without upgrading to new expensive internet capable phones. This way, internet phone calls can still be made with the equipment you are already using.

Rhino products are tough. In the rare case of trouble, our technical support staff is ready to give you the support you need, when you need it. The Rhino 5-year limited warranty means that you can be confident that Rhino will always work hard and work well in your T1 application.
Rhino Open Source Telephony PCI products allow you to utilize analog phones and wiring in conjunction with leading-edge Asterisk technology -- without having to buy expensive IP telephones. Why go IP when you can save on installations by using your existing wiring? With Rhino you can use lower cost analog phones with digital features and get guaranteed T1 voice quality, all while enjoying Asterisk VoIP technology for off-premise connectivity.
All Rhino PCI FXO analog cards feature a dual chip integrated DAA with line interface
that is software controlled and software programmable

• On-chip uLaw or aLaw CODEC with integrated PCM highway
• 80db dynamic range Tx/Rx
• 3 uA on-hook line montor current
• Programmable digital gains
• Line voltage monitor
• Loop current monitor
• Integrated ring detector
• Parallel handset detection
• Programmable line interface, including AC terminiation, DC termination, ring detect threshold, ringer impedance to support over 70 coutry interfaces
• Tip/Ring polarity reversal detection
• 2-to-4 wire hybrid with programmable near-echo reduction
• Integrated Caller ID