Rhino Octal T1 MiniDax
With Individual DS0 Audio Monitoring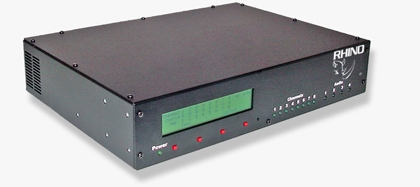 The Rhino Octal T1 MiniDax provides eight identical T1 input channels, with full cross point switch capability and two output T1 ports for each input T1 channel. (Each T1 channel may be selected to output to one of two T1 output ports, A or B.)
User control includes:
• Four dial in ports with touch tone control
• TCP/IP utilizing Windows graphical user interface
• Front panel LCD and easy configuration button control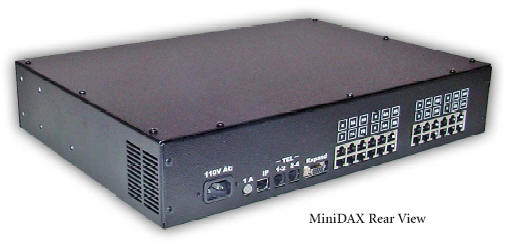 Providing reliable, flexible, and leading-edge solutions for a demanding industry.
Managing your T1 circuits has never been easier. The Rhino Octal T1 MiniDax puts your telemarketing company in complete control of its T1 circuits. You are in complete control of up to eight T1s per unit. The crystal clear audio quality demonstrates the value of going 100% digital. With no moving parts the Rhino MiniDax will perform perfect for years. After just a few days using the Rhino MiniDax you will wonder how you operated without it.
The Rhino MiniDax gives you eight distinct T1 channels, with full cross point mapping from any of the eight T1 inputs to any of the eight T1 outputs. Additionally, each T1 output has an A-B selection which means that you can switch between different destination equipment connected to different T1 outputs in seconds. And, perhaps best of all, the Rhino MiniDax provides real-time audio monitoring of any voice channel on any of the eight incoming T1s.
In other words, you can monitor any conversation on any channel on any of the eight T1 circuits. You can monitor the audio through four separate audio jacks (on the front panel), or remotely through four separate POTs line dial-in ports. Great for Training or quality assurance programs. The Rhino MiniDax also allows for customers to dial-in and monitor sales scripts, etc.
Rhino products are tough. In the rare case of trouble, our technical support staff is ready to give you the support you need, when you need it. Our 5-year limited warranty means that you can be confident that Rhino will always work hard and work well in your T1 application.
• 4x40 LCD real-time status display
• Eight LEDs for immediate channel disposition
• Eight T1 inputs, with two outputs (A and B) that are user selectable
• Eight T1 inputs can be mapped to any one of eight T1 outputs
• Four dial in ports for managing T1 inputs and outputs and monitoring T1 channels
• TCP/IP connection for managing T1 inputs and outputs
• Four headphone or line level outputs for monitoring audio on any of the eight T1 channels, any DS0, full duplex monitoring with absolutely NO level loss
• Field software upgradable
• 19", 23" or wall mounting kit standard
• 110V AC, and 220V AC power source selections on one power supply
• 5-year limited warranty