RangeLAN2 Wireless Building-to-Building Bridge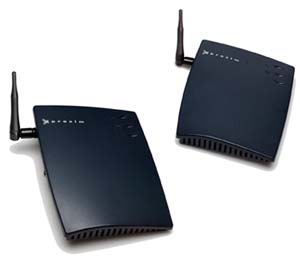 Fast, Stable Connections at a Low Price
Proxim RangeLAN2 7510 and 7520 Ethernet Access Points (APs) are ideal wireless bridging solutions for connecting Ethernet LANs between buildings in close proximity. RangeLAN2 7510/20 APs offer expanding businesses and networks reliable, high-speed connections at very low costs. Used in place of modems, ISDN, Frame Relay or T1, RangeLAN2 7510/20 APs provide fast, stable connections without recurring costs and reliance on the phone company. Whether your priority is avoiding obstacles such as streams and roads or providing Ethernet service to a remote office or temporary classroom, RangeLAN2 7510/20 APs bridge the gap.
Multiple Antenna Choices Deliver Network Flexibility
Proxim RangeLAN2 7510/20 Access Points afford network designers great flexibility. A variety of antenna options allow both point-to-point or multi-point connections across difficult terrain and over distances up to 3 miles (varies by country depending on power output allowed). Once the radio link is operational, choose SNMP (7520 only), telnet, or modem (7520 only) connections to manage your RangeLAN2 7510/20 Access Points.
Designed for Robust and Reliable Service
Well-designed wireless data links can be more reliable than connections provided by your local telecommunications provider. In fact, if you currently use inter-city WAN links, chances are some part of that connection is wireless. Proxim's unique frequency-hopping spread spectrum technology is highly robust and resistant to radio interference. The technology has been recognized as the industry's best garnering awards such as PC Magazine's Editors' Choice, LAN Magazine's Product of the Year and Infoworld's Top LAN Connectivity Product of the Year. RangeLAN2 7510/20 AP's mechanical design relies on diskless storage and has the widest temperature range in the industry, making it suitable for long-term use in nearly all industrial environments.
Possible Topologies