Quick Eagle Ensemble
CSU DSU Shelf System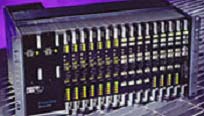 The Ensemble Shelf System is a high-density, compact chassis that holds up to 15 DSU or CSU modules, providing access to Internet and Frame Relay networks at speeds ranging from 56 kbps to full T1 or E1. Well suited for linking hub and central-office locations to multiple remote sites, the Ensemble offers an economical and space-saving advantage over deploying multiple stand-alone devices at a single site.

The Ensemble features dual redundant power supplies, modules that are hot-swappable, and versatile testing and management capabilities. When equipped with a Solo Select family of DSUs, the Ensemble can function as a WAN probe, giving users end-to-end control of their Frame Relay networks and allowing them to conduct extensive service level monitoring.

The Ensemble's Management Access Processor module provides a means for simultaneous SNMP or telnet management access to each module in the chassis. Additionally, the unit offers in-band management and embedded data link access. The Ensemble's device-specific MIB can be easily integrated with popular SNMP management packages, including Infovista, Concord Health, Micromuse, SunSoft's SunNet Manager, and Hewlett-Packard's HP OpenView.
Main Features:
Compact shelf houses up to 15 hot-swappable WAN modules:
56/64, T1, and E1 DSUs with optional RMON-1 & 2 based performance monitoring with FRF.13 Service Level Agreement (SLA) verification
Management access: Ethernet, Telnet, and embedded SNMP management.
DC with optional redundant AC load sharing power supplies
Alarm dial-out connection for unattended remote operation