Quick Eagle 4335 Access Router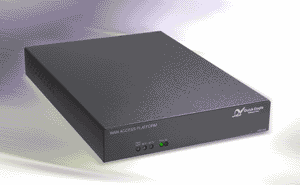 The 4335 Access Router is a scalable branch-office router that comes with two Ethernet ports (10/100 and 10 BaseT). The second Ethernet port might be used for redundant fail-over to a backup VPN link by connecting to a DSL, cable, or last-mile wireless modem (likely with a VPN appliance between router and modem). The second port could also be used to load-balance LAN traffic. An integrated CSU/DSU, WAN Probe, stateful inspection firewall, and an optional bandwidth shaper turn this router into a multifunctional device.
With the 4335 Access Router's optional standard-based DiffServ capabilities you able to control and manage the bandwidth on your WAN connection, eliminating bottlenecks for your business-critical applications such as Enterprise Resource Planning (ERP) and Customer Relationship Management (CRM). In addition, DiffServ QoS enables delay-sensitive voice and video over IP services, while dedicating enough bandwidth for lower priority traffic.
The auxiliary T1/E1 port is software configurable via software feature key as either a drop-and-insert port, enabling the integration of voice traffic from a digital PBX, or as a second network port for high-speed 3 to 4 Mbps data access services.
The router comes with a full suite of intelligence software that enables advanced WAN monitoring. RMON-1 and RMON-2 monitoring and Frame Relay Service Level Verification capabilities are all included as standard in the software.
With PPP, PPPoE, PPPoFR, Frame Relay, Multilink Frame Relay, Multilink PPP, and MAC Bridging, the 4335 Access Router offers the most cost-effective way to connect branch offices over leased lines, the Internet, IP VPN, or corporate Frame Relay networks. The ability to configure static routes, and one or more dynamic routing protocols like RIP1, RIP2, OSPF, and optional BGP-4, enables the routers to link small and large enterprise networks with advanced IP routing services, such as multipaths and path redundancy.
With its excellent performance, scalability in routing protocols, breadth of features, and competitive pricing, there is now an alternative to those traditional, high cost, proprietary branch office routers.
Main Features:

Fractional to full T1/E1 network
Auto-sensing 10/100 Ethernet port and 10 BaseT Ethernet port
Bandwidth scalable (up to two T1/E1 ports)
Frame Relay, PPP, PPPoFR, PPPoE, Multilink Frame Relay FRF.16, MLPPP
MAC Bridging and VLAN Bridging
Static and dynamic routing (RIP1, RIP2, and OSPF)
DHCP Server and DHCP relay
IGMPv3, IGMP proxy
VRRP
Stateful Inspection Firewall designed for ICSA compliance
NAT/NAPT and DHCP Forwarding
SNMP manageable
Radius authentication, PAP, CHAP
Secure Shell (SSH)
Access list firewall
Protocols and applications monitoring (RMON-1, RMON-2)
Frame Relay SLA FRF.13 verification
Options:

Optional Aux port configurable as drop-and-insert or second WAN port
Optional BGP-4 routing protocol
Optional standard-based DiffServ with priority queues, congestion control, six forwarding classes, traffic metering, and multi-field classifier