Quick Eagle 4220 Access Multiplexer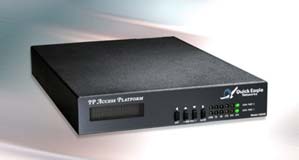 The 4220 Access Multiplexer integrates data from two external routers and voice from PBX onto a fractional T1/E1 or full T1/E1 network connection. The 4220 Access Multiplexer therefore maximizes the usage of your T1/E1 network resource by integrating voice traffic from a PBX and Frame Relay traffic from one DTE port. The 4220 Access Multiplexer uses the auxiliary T1/E1 port as a drop-and-insert for connectivity to a digital PBX.
The unit is SNMP-manageable, offers menu-driven configuration, includes comprehensive diagnostics, and complies with industry and regulatory standards. A Troubleshooter feature includes LMI conditioning, link-based testing, and in-band management. These tools simplify installation and troubleshooting, thereby reducing network downtime and remote technician costs.

Main Features:
Fractional to full T1/E1 network interface
Frame Relay, Cisco HDLC, PPP, and Transparent protocol
Two serial DTE ports
Drop-and-insert port for voice integration from PBX
Ethernet management /data port
Non-disruptive downloadable code
Embedded SNMP agent
LMI conditioning, Link based testing and delay monitoring, In-band management (Frame Relay or Cisco HDLC)
User level security
Time of day sychronization
Optional Intelligence:
Network performance monitoring: Frame Relay adapted RMON-1, applications and protocols monitoring RMON-2, Frame Relay SLA FRF.13, IP SLV, and DiffServ monitoring.
Typical Application ? DL3800T Inverse Multiplexer