Quick Eagle 4210 CSU / DSU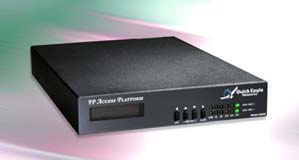 The Quick Eagle 4210 CSU / DSU is an access device with single DTE port connection to an external router configured as Frame Relay, Cisco HDLC, or PPP.

The unit is SNMP-manageable (supports SNMPv3), offers menu-driven configuration, includes comprehensive diagnostics, and complies with industry and regulatory standards. A Troubleshooter feature includes LMI conditioning, link-based testing, and in-band management for Frame Relay and Cisco HDLC. These tools simplify installation and troubleshooting, thereby reducing network downtime and remote technician costs.

User level security lets you define multiple access levels to the device configuration menus. An internal clock acquired automatically from an RFC868 time server keeps the unit synchronized with your network.
Main Features:
Fractional to full T1/E1 network interface
Frame Relay, PPP, Cisco HDLC, and Protocol Transparent support
Single serial DTE port
Ethernet management /data port
Non-disruptive downloadable code
Embedded SNMP agent
LMI conditioning, Link based testing and delay monitoring,
In-band management (Frame Relay or Cisco HDLC)
User level security
Time of day sychronization
Optional Intelligence:
Network performance monitoring: Frame Relay adapted RMON-1, applications and protocols monitoring RMON-2, Frame Relay SLA FRF.13, IP SLV, Diffserv monitoring.