Antennas and Accessories
Proxim offers many antenna options to customize its wireless network equipment for differing environments and to help increase coverage. This section of our site lists the complete line of Proxim antennas, cables, connectors, and mounting accessories and guides you through the selection process. Read the ordering information and follow the links available below.

Ordering Information and Nomenclature
To build a system, follow these simple steps:
Begin with the Access Point (AP), Extension Point (EP), Serial Adapter (SA), or Ethernet Adapter (EA). These products all come standard with Reverse TNC-male connectors only.
Choose an antenna. Most antennas come with two cable options, one of which allows direct connection to the AP, EP, SA, or EA with no adapter.
Select a cable (if necessary). Cables come in varying lengths and with various connector options. Cables may be joined up to a maximum length of 100 feet (30 meters), but it is recommended that no more than two cables be joined on a cable run.
Select a connector adapter if needed to join your chosen antenna to the appropriate cable. (Note that cable adapters are not sold in the U.S.)
Due to FCC regulations, U.S. customers must design and install systems using Reverse TNC (RTNC) connectors only. Cables and antennas with RTNC connectors carry the suffix "-05". Thus, when ordering the 7013 Omnidirectional Antenna, the proper order number for a system to be installed in the U.S. would be "7013-05".
Outside the U.S., local regulations may dictate such things as maximum power output, connector or antenna choice. Check with local authorities or your local Proxim reseller.

Reverse SMA-female

Within the United States
In the U.S. you will use the ordering suffix -05
| | |
| --- | --- |
| | |
| RTNC (-05) Male | RNTC (-05) Female |
| | |
Outside the United States
Outside the U.S. you will use the ordering suffix -02
| | |
| --- | --- |
| | |
| N (-02) Male | N (-02) Female |
| | |
Typical -05 cable connections: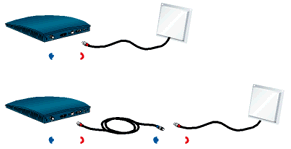 Typical -02 cable connections: