Patton Visuality Mobile Surveillance
Patton T7714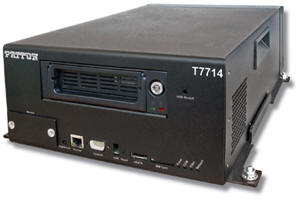 The Patton Visuality T7714 Multichannel Store and Stream DVR provides
a complete and secure video, audio, and GPS surveillance solution with integrated capture, DVR storage, and streaming.
The Patton Visuality Model T7714 Series Secure Store-and-Stream Media Appliances offers a complete mobile and fixed remote surveillance solution. The Model T7714 Series is specifically for applications requiring local capture, storage, and simultaneous streaming of all video sources.

Ideal for public safety, transportation, industrial and government monitoring and surveillance requirements, the T7714 supports full-resolution quality on all inputs. Along with local audio input and user I/O, the T7714 provides GPS location information with real-time and synchronized geospatial capabilities.
Wired or wireless uplink options permit easy streaming of all channels over virtually any cellular provider network while permitting over-the-air recall of any DVR recording. Now mobile systems can deliver live motion video in real-time for the ultimate in remote command and control.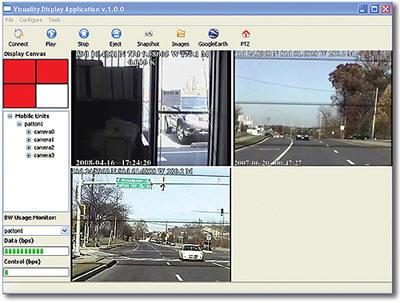 Incorporating Patton?s TrinityAE? software service set, the Visuality? solution provides standards based IP multi-service transport and interfacing with coordinated remote communications. The T7714 also adds system-wide network security and encryption options with secure end-to-end communications and multi-unit management.

When used with the Visuality? T7910 Secure Command and Control Server an operator can ensure total and secure control of all remote units from a single point of management. Providing tunnel termination, user credentials, and complete remote unit control, the T7910 manages the simultaneous recording and re-streaming playout of up to 24 unique sources.
The Visuality T7714 Series functions as an intelligent networked media aggregator and provides the simultaneous recording and streaming playout of up to four video sources with full resolution on all channels. Including coordinated GPS location data, all data and information is provided over a secure end-to-end tunnel with user defined encryption options
Uplink options include integrated cellular wireless support for 1xRTT, EVDO Rev. 0 and Rev. A, and HSPA using internal Airlink cellular modems. Or use the Integrated Ethernet port for connection and transport over any public or private IP network or even the Internet.

For end-to-end management and control the Visuality Model T7910 offers a secure headend command server permitting security, control, configuration, and location management for up to 24 remote T7714 streams.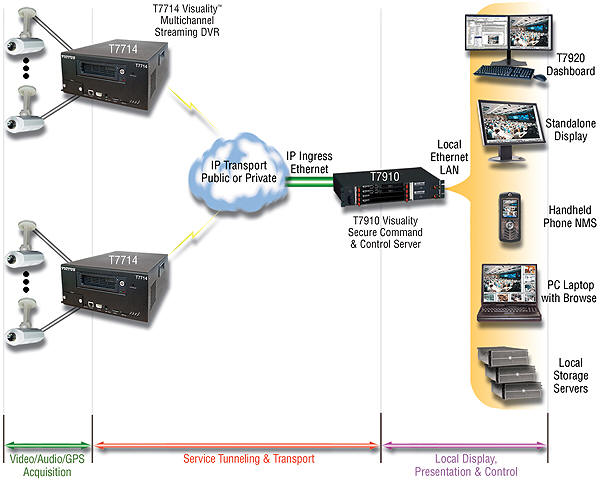 Video Inputs
Accepts up to 4 composite NTSC-M or PAL format ? Standard definition 525 line, 29.97 fps/PAL definition 625 lines, 25 fps ? Female BNC connectors, one per input
Audio Input
Four mono line level audio inputs ? Female 75-ohm BNC ? Sampling from 8 to 96 kHz ? Single electret microphone input on 3.5 mm jack
Audio Output
Single mono line level audio output on female BNC ? Single headphone output on 3.5 mm jack
Video Ingest Resolution & Processing
Records video at D1 (704x480) size, 30 frames-per-second (fps) while simultaneously streaming at SIF (352x240) size, 15 fps. When recording is disabled, video content can be streamed at a max resolution of D1 (704x480) size, 25 fps ? H.264 encoder supports D1 (720x480 or 704x480), VGA (640x480), SIF (352x240), QVGA (320x240), QSIF (172x128), & QQVGA (160x128) video resolutions at 5~30 fps
Digital Video Recorder (DVR)
Record any source ? Sources independently recorded with unique time-stamped file names ? Field removable & lockable media drive bay ? Configurable alerts & management for media full & overwrite behavior
Streaming
Stream & source ? Sources independently streamed with unique source address ? Different resolution than recorded
Cellular/Wireless Uplink & GPS
Integrated wireless options with 1xRTT, EVDO Rev. 0 and Rev. A, and HSPA using internal Airlink cellular modems ? Full GPS 12-channel support ? Real-time clock sync. ? NMEA 0183 data recorded & streamed automatically ? Separate TNC for primary uplink, diversity, & GPS antenna inputs
Data Connections & Camera Control
Two 10/100/1000 local Ethernet ports ? RS-232 Console port ? Pan/Tilt/Zoom (PTZ) control supporting two-wire R485 ? Supports Rvision and Pelco D PTZ protocols on DB-9 interface
Security and Encryption
Private and encrypted tunnel between unit & central site ? All remote unit data via tunnel & encrypted with all data encapsulated within the tunnel ? Standard AES encryption ? FIPS 140-2 compliant ? Remote device firewalled to prevent unauthorized access & denial-of-service attacks ? Government-use and commercial-use versions
Networking
Patton?s TrinityAE? Service Set ? full TCP/IP networking ? Software upgrades ? Import/Export Config ? CLI Framework ? WMI Framework ? Telnet/SSH ? HTTP Server ? System Monitor ? Platform Manager ? QoS ? SSL ? ACL/Firewall ? Data & networking encryption
Management
Web-based GUI ? CLI ? Telnet & HTTP access ? TFTP configuration up- & download ? TFTP firmware upgrade ? SNMPv1 agent, MIB II & enterprise MIB ? Built-in diagnostic tools ? Auto-provisioning?configuration & firmware ? System status with 4 LEDs ? Patton?s Trinity? CORBA IDL set
Dimensions
T7714 Unit
11.4L x 10.0W x 5.9D in.
(29.0L x 25.4W x 15.0D cm)
T7714 Unit in Dock
17.3L x 12.3W x 5.9D in.
(43.9L x 31.2W x 15.0D cm)
Weight
T7714 Unit: 7.6 lbs (3.4 kg)
T7714 Dock: 15.4 lbs (7.0 kg)
T7714 Unit in Dock: 23 lbs (10.4 kg)
Power
Input: 13.1VDC nominal Negative ground system ? Consumption: 120W ? Integrated ignition/accessory sense and activation with sleep/wake mode ? Graceful shutdown on power-loss
Environment
Operating Temp: 0?85?C ? Humidity: 5 to 95% , non-condensing ? Vibration: 1G sine sweep; 10?500?10Hz, 1 octave per minute 3 axis ? Shock: 5G-half-sine 11ms, 3 axis
Compliance
FCC Part 15 Class A (US EMC) ? CE per RTTE 99/5/EC (EMC and LVD) ? Safety - EN60950
Mounting Options
Mobile: flange ears for trunk or in vehicle mounting ? Fixed mount standard
Patton Visuality T7714

Patton T7714 DataSheet