Paradyne Zhone Products


Call 301-924-7400 ext. 17 for Information and Pricing
Get-A-Quote
Paradyne Ethernet Everywhere Products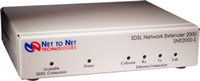 Ethernet is the best choice for IP (Internet Protocol) transport. However, while Ethernet has dominated the Local Area Networks of most businesses and homes, there are a few limitations that prevent Ethernet from reaching between these LANs and into the WAN. Fiber Optic Ethernet Transport solutions, such as Resilient Packet Ring (RPR) have fueled Metro Ethernet initiatives, designed to build large networks that span campuses, neighborhoods or even entire cities. Ethernet in the First Mile (EFM) technologies also help to disseminate Ethernet connectivity, using EFM-F (EFM over Fiber) or EFM-C (EFM over Copper using VDSL2 or SHDSL). Ethernet in the WAN takes EFM a step further and drives Ethernet over T1 or E1 circuits, finally bringing Ethernet to the WAN.

By bringing all three of these components together, Paradyne can provide Ethernet Everywhere.
<![if !supportLineBreakNewLine]>
<![endif]>
Ethernet in the WAN (T1/E1 & DS3/E3)

TNE1520

Dual T1 Network Extender

TNE1544

Quad T1 Network Extender

TNE1584

8-Line T1 Network Extender

ENE2020

Dual E1 Network Extender

ENE2044

Quad E1 Network Extender

ENE2084

8-Line E1 Network Extender

TIM1500

T1 Inverse Multiplexer w/ Loop Bonding for IP DSLAM

EIM2000

E1 Inverse Multiplexer w/ Loop Bonding for IP DSLAM

DNE4500-KIT-1

DS3 Point-to-Point kit, includes one DNE4500-S and one DNE4500-P

ENE3400-KIT-1

E3 Point-to-Point kit, includes one ENE3400-S and one ENE3400-P

UIM-2T1

Dual T1 Uplink Interface Module (for MUM or MiniDSLAM)

UIM-2E1

Dual E1 Uplink Interface Module (for MUM or MiniDSLAM)

MIM-2T1

Dual T1 Uplink Interface Module (for 4929 BLC or BSX8000-5)

MIM-2E1

Dual E1 Uplink Interface Module (for 4929 BLC or BSX8000-5)

Ethernet in the First Mile (EFM)

SNE2020G-KIT-1

Dual Line SHDSL Network Extender w/ Loop Bonding

SNE2040G-KIT-1

Quad Line SHDSL Network Extender w/ Loop Bonding

SIM2000-24

Ethernet SHDSL Inverse Multiplexer w/ Loop Bonding for 12000 or 4000 BLC

S?D20xx-xx

Ethernet SHDSL MicroDSLAM w/ Loop Bonding support

1752 / 1754

2 Port and 4 Port Router with Extended Rate Bonded SHDSL

Ethernet Fiber Transport (EAPS / RPR)

BSX8000-5

Gigabit uplink card for the 12000 BLC, providing Ethernet Protection Switching for triple play network transport
Call 301-924-7400 ext. 17 for Information and Pricing
Get-A-Quote
Paradyne CSU/DSUs and Business Class Analog Modems
Paradyne's intelligent, full-featured CSU/DSU multiplexer products provide an interface between customer-premise equipment such as routers, front-end processors, video servers and digital PBXs, and the T1/E1 network ? providing the capability to support fast, efficient, distributed applications including remote file sharing, telecollaboration, and network "white boarding" in a cost-effective manner.
Paradyne's family of analog modems are also designed to save time, money, and space ? while providing high data rates and a host of features in an easy to use platform. With support for advanced features such as Enhanced Throughput Cellular (ETC?), you can be assured of optimal data speed in both wire and wireless applications, in both standalone units and a variety of high-density space-saving enclosures.
Features:
? Maximize network availability by providing a "bird?s-eye-view" of the network access segment via the 317x's internal SNMP MIBs, traps, and alarming scheme
? Easy to cost justify, with cost-effective price lines to maximizes value and return on investment
? Straightforward to manage, exchanging SNMP traffic via an attached router, an external dial-up modem, T1/E1 service (in-band), and/or daisy chained units
? Maximizes bandwidth usage with "on-the-fly" application bandwidth re-allocation, making it easy to re-allocate DS0s (64K time slots) on a per port basis
Paradyne CSU/DSUs and Business Class Analog Modems
T1/E1 and Subrate Digital Access Devices

3100

ACCULINK 3100 Series

3150

ACCULINK 3150 ESF T1 CSU

317X

ACCULINK 317X Series E1 CSU/DSU

3550

COMSPHERE 3550/3551 DSU

3610

COMSPHERE 3610 Series DSU

7123

7123 T1 DSU/CSU

7520

7520 DSU

7612

7612 SNMP DSU

Business Class Analog Modems

3800

COMSPHERE 3800 Series Modems

3800Plus

COMSPHERE 3800Plus Series Modems

3821Plus

COMSPHERE 3821Plus Modem

3825Plus

COMSPHERE 3825Plus Modem

3910

COMSPHERE 3910 APL Modem

3920Plus

COMSPHERE 3920Plus Modems
Call 301-924-7400 ext. 17 for Information and Pricing
Get-A-Quote
Paradyne iMarc Enterprise WAN
Paradyne's enterprise WAN solutions are built upon Paradyne's iMarc family of intelligent demarcation products. By focusing on automatic provisioning and sophisticated service level management, Paradyne is able to cohesively manage an enterprise network beyond the demarcation point, allowing end-to-end network monitoring and the greatest degree of application and service monitoring in the industry. By putting intelligence at the edge of the network, where it is needed most, paradyne's Enterprise WAN solutions enable new services to be deployed faster, existing services to remain reliable, and inactive services to be restored more quickly.
Paradyne's iMarc and Enterprise WAN solutions are a corner stone of OpIQ?, or Operational Intelligence: an effort to reduce our customers operational costs through automation, reliability, security and sophistication.
Related Information
? White Paper: The Intelligent Demarc ? Understanding the Benefits
? iMarc Technical Manuals
? iMarc Product Photos
? Network Extender Products
? CSU/DSUs and Analog Modems
Related Products
| | |
| --- | --- |
| OpenLane | OpenLane Service Level Management Solution |
| 9123 DSU | T1 DSU with V.35 |
| 9126 DSU | T1 DSU with V.35, DSX, Integral Management Modem |
| 9128 DSU | T1 DSU with 2 V.35, DSX, Integral Management Modem |
| 9623 DSU | DDS DSU with V.35 |
| 9626 DSU | DDS DSU with V.35, DSX, Integral Management Modem |
| 9123 Router | T1 Router with 10/100 Ethernet |
| 9126 Router | T1 Router with 10/100 Ethernet, DSX, Integral Management Modem |
| 9623 Router | DDS Router with 10/100 Ethernet |
| 9720 | FRoDSL IDSL Modem/Router |
| 9783 | FRoDSL SDSL Modem/Router |
| 9788 | FRoDSL SHDSL Modem/Router |
| 9820 ILM | SLM Monitor, from 2 to 45 Mbps |
Call 301-924-7400 ext. 17 for Information and Pricing
Get-A-Quote