Motorola 3460 Fast'R Series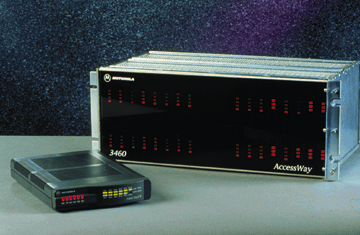 33.6kbps Sync: Async to 230.4K w/V.42bis Data rates: 33.6K (ITU V.34), 28.8K (V.34), 14.4K (V.32bis), 9600 (V.32), 7200, 4800, 2400 (V.22bis), 1200 (212), 300 bps 2-wire dial leased line and 2/4-wire dial leased line with restoral Available in standalone, stackable, or rackmount for 3460 AccessWay nest supporting up to 16 dual cards per rack Autocall: AT; V.25bis, LPDA Front panel Speedbar LEDs display configured line rate and actual data rates World wide availability Flash memory for easy upgrades 9000 UX or 9000 PC SNMP manageable remote configuration Extensive security features control unauthorized access Real time line statistics for pro-active network management Fast'R Vu Windows® based configurator.
Fast'R Vu, An Industry First! With the Fast'R Vu manager, implementation and upgrades have never been easier!
Windows® based PC application
Pull down menus
Graphic displays for device and line status
Copy and paste global configuration
Non-disruptive changes
---
To Order
| | |
| --- | --- |
| 39500 | 3460 FAST'R S/A U.S. |
| 39600 | 3460 FAST'R DUAL MODEM NEST Card U.S. |
| 39501 | 3460 FAST'R S/A CANADA |
| 39601 | 3460 FAST'R DUAL MODEM NEST Card CANADA |
| 39599 | 3460 STACKSIX STACKING KIT |
| 39708 | 3460 ACCESSWAY 110 V RJ TERM |
| 39710 | 3460 ACCESSWAY -48VDC MASS TERM |
| 39719 | 3460 ACCESSWAY 110/220V SPR PWR SUPPLY |
| 39720 | 3460 ACCESSWAY -48VDC SPR PWR SUPPLY |
| 39718 | 3460 ACCESSWAY -48VDC SPR PWR SUPPLY CARD |
| 29900 | 3460 FAST'R SLR S/A U.S. |
| 39900 | 3460 FAST'R SLR NEST Card U.S. |
| 29901 | 3460 FAST'R SLR S/A CANADA |
| 39901 | 3460 FAST'R SLR NEST Card CANADA |
| 39733 | 3460 ACCESSWAY 110 V RJ TERM |
| 39739 | 3460 ACCESSWAY -48VDC RJ TERM |