Microhard SpectraNT 910 High-Performance Enclosed 900 MHz Wireless Industrial Ethernet Bridge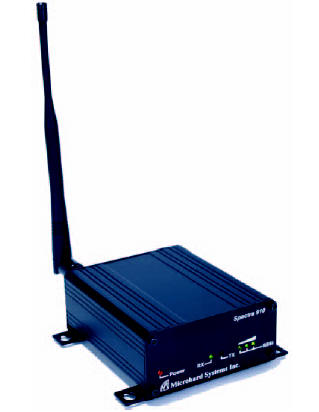 Wireless Industrial Ethernet Bridges

MHS100300 Spectra NT-910 FHSS 900 MHz Ethernet Bridge includes the following:
82501 x 1 12V, 1.2A Wall Adapter 110VAC
83100 x 1 Rubber Ducky Antenna
84106 x 1 6ft. RS-232 Serial Data Cable
91031 Spectra-910 Manual

SpectraNT 910 Industrial Ethernet Bridge

The SpectraNT 910 is powered by the MHS-910 radio core, but provides an RJ-45 10BaseT Ethernet interface. This product is ideal for industrial wireless Ethernet applications.
Extremely robust long range frequency-hopping data radio

Very high interference and noise rejection allowing reliable communication in high power cellular and paging environments

License-free operation in the 902 ? 928 MHz ISM band

Industrial temperature specification

Supports point-to-point, point-to-multipoint, repeater and remote diagnostics modes
IEEE 802.3 compliant

Convenient and easy-to-use configuration menu is provided through a separate serial port.

The SpectraNT also supports remote configuration

Internal CRC and auto re-transmit ensures reliable transmission