Kentrox Q2400 Dual T1 and Ethernet
QoS Access Router

Kentrox Q2400 Dual T1 and Ethernet QoS Access Router

Please contact us 301-924-7400
Kentrox Q2400 Dual T1 and Ethernet QoS Access Router
Description
Flexible, multi-port router to meet your networking needs
The Q2400 QoS Access Router is a dual T1 and Ethernet router that includes a QoS appliance, firewall, VPN, DSU/CSU and Ethernet switch. The flexible, multi-port architecture enables many network applications, including:
Two T1 Connections — Small and medium businesses whose network access needs grow over time have a second T1 line to increase the available bandwidth, without investing in more equipment.

T1 Add/Drop — The second T1 port can be used for add/drop applications, such as connecting a PBX.

Ethernet WAN — An Ethernet WAN port provides the option of using a low-cost DSL or cable connection as a backup for mission-critical applications.
Features

QoS protects VoIP call quality—right out of the box
Voice over IP (VoIP) and video quality can degrade significantly when competing with bursty web traffic for WAN bandwidth. The Q2400 provides priority queuing and traffic shaping to ensure voice and video traffic take precedence over less critical applications, even through VPN tunnels. No matter which VoIP equipment you plug into the router—digital phones or analog converter boxes—the system will let you distribute bandwidth as you need it. Other mission-critical applications and delay-sensitive traffic can also be classified with user-created policies, making it easy to configure the system to meet your specific needs.
Q2400 deployment applications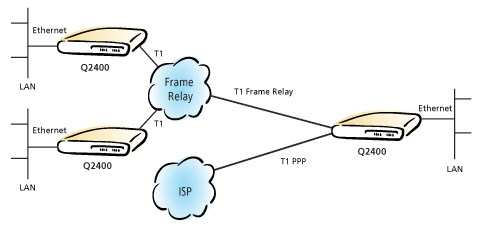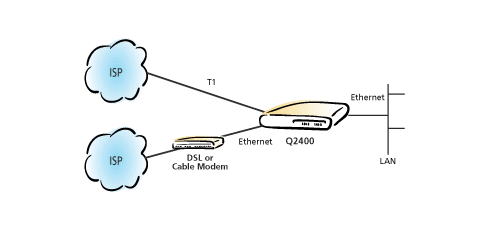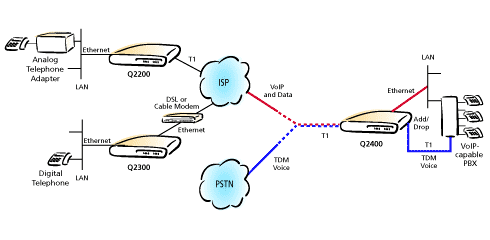 Embedded, web-style GUI simplifies setup and management
The graphical user interface contains powerful tools to troubleshoot problems, run QoS reports, make configuration changes, set up traffic-shaping policies, or just check the health of the network. Accomplishing these tasks using a command line interface can be lengthy and difficult; the Q2400's GUI is point-and-click easy.
Protect internal systems from intrusion
To protect internal networks from outside intrusion, the router conceals LAN IP addresses using Network Address Translation (NAT). It also has an integrated Stateful Packet Inspection (SPI) firewall. The router firewall includes Intrusion Detection System (IDS) capability, which identifies and blocks common attacks.
Secure network traffic with VPNs
The Q2400 secures up to 100 VPN tunnels with standards-based IPSec encryption (DES/3DES/AES) and authentication. VPN support is designed for Virtual Private Networks Consortium interoperability and conformance. Dedicated hardware accelerates DES/3DES encryption for optimal performance.
Fine-tune network performance with QoS monitoring and reports
The Q2400's graphical reports let you monitor traffic performance at each established QoS priority level to see whether critical traffic flows are getting the bandwidth they need. The report data helps you identify performance problems and modify your QoS policies appropriately.