Kentrox DataSMART MAXT1 FT1
Multi-Port DSU CSU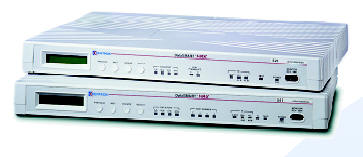 Kentrox DataSMART MAXT1 FT1 Multi-Port DSU CSU

Please contact us 301-924-7400
Kentrox DataSMART MAXT1 FT1 Multi-Port DSU CSU
Description
DataSMART® MAX™ T1 / FT1 multi-port DSU/CSUs from Kentrox help you consolidate traffi c at remote sites, and save access charges month after month. By leveraging unused bandwidth and merging voice, data and video traffi c onto a single T1 link, you can reduce the number of T1 / FT1 lines needed for WAN access. DataSMART MAX DSU/CSUs maximize your network uptime with convenient features, such as optional 10Base-T Ethernet for simplifi ed management. Each DSU/CSU includes a frontpanel LCD for easy local setup and management, along with support for standards-based SNMP management.
Features
• Voice, data and video multiplexing
• Standards-based SNMP management
• Optional Ethernet connection for SNMP and Telnet management
• Front-panel LCD and LEDs for simple setup and troubleshooting
• Software-selectable data ports for fl exibility (V.35 and EIA-530)
• Free DataSMART Installer for Windows and Alarms Utility software
• Compatible with all major routers, video codecs, voice PBX and other customer premise equipment
• Supports leased-line, Internet, Frame Relay and frame-based SMDS/ATM DXI network services
• 5-year manufacturer's warranty
Easy installation and diagnostics
Shipped free with every unit, DataSMART
Installer is an intuitive, Windows-based confi guration and diagnostic utility. DataSMART Installer dramatically reduces setup time, by walking the user through the process using a series of Windowsbased templates. For easy local installation and troubleshooting, the DataSMART MAX also provides a front-panel LCD and diagnostic LEDs.

Performance monitoring and alarms
To help you resolve performance problems on your circuit, DataSMART MAX DSU/CSUs provide comprehensive T1 diagnostic tools. You can diagnose degradation of your T1 / FT1 circuit, and resolve it with your carrier before it affects service. With the DataSMART MAX, you can also download software upgrades, receive traps for important network events, and receive remote alarms.

Standards-based management
For your management requirements, the DataSMART MAX includes an embedded SNMP agent. The agent supports SETs, GETs and Traps, as well as the standard MIBs, such as MIB II and the T1 MIB. For comprehensive control, an enterprise MIB supports all available functions. In addition, a Telnet server is included, allowing direct access to the DataSMART MAX menus through the network. Remote access to the unit is available through RS232 control ports or an optional 10Base-T connection.

Alarms Utility
The Alarms Utility software monitors the network for interface and device errors, posting them to the event log in HP OpenView®. Custom icons uniquely identify all Kentrox devices for easy recognition on the Network Node Manager topology map.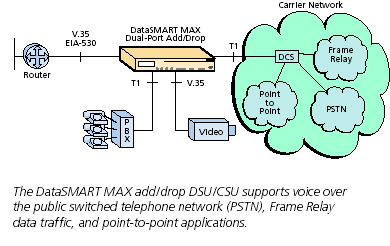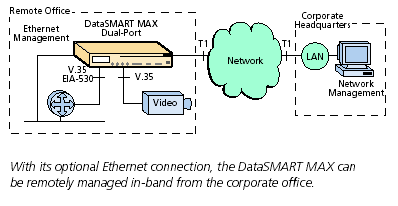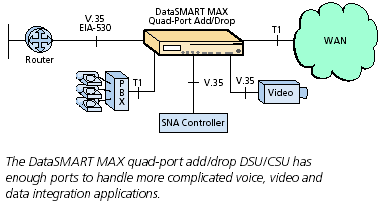 Ordering Information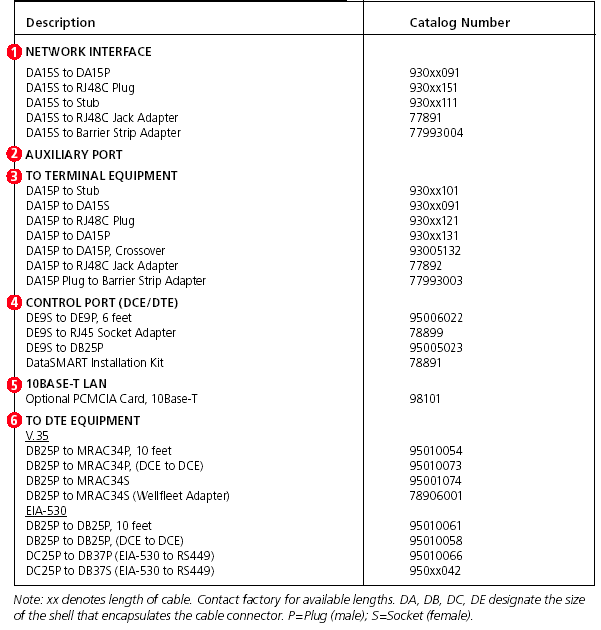 Specifications
NETWORK INTERFACE
Line Rate: T1 (1.544 Mbps)
Framing: SF, ESF, Ericsson
Line Code: AMI, B8ZS
Input Signal: DS-1 from 0 dB to -27 dB, typical
Output Signal: DS-1 with LBO 0, -7.5,
-15 dB (selectable)
Mechanical: DA15 plug
Lightning Protection: Withstands lightning surges defi ned
per FCC Part 68, and recovers
TERMINAL INTERFACE (ADD/DROP PORT)
Line Rate: T1 (1.544 Mbps)
Framing: SF, ESF, Ericsson
Line Code: AMI, B8ZS
Input Signal: DSX-1 to -10 dB
Output Signal: DSX-1 with equalization
Mechanical: DA15 socket
DATA PORT INTERFACE (SELECTABLE)
Bit Rate: Nx56 kbps or Nx64 kbps (N=1...24)
Electrical: V.35 compatible, DB25 socket or
EIA-530/RS449, DB25 socket
MANAGEMENT
Control Ports: DCE and DTE
EIA-574
DE9 socket and plug
Daisy chain
38.4 kbps maximum
English menus
Async ASCII or SLIP
Ethernet Connection: Optional 10Base-T PCMCIA adapter
SNMP Agent:MIB II (RFC 1213)
DS1 MIB (RFC 1406)
Enterprise MIB
TELNET server
Responds to PING
Security fi lters (for IP source addresses)
Up to 10 SNMP Trap hosts
In-band: Via external router
In-band Menus: Via external router
ALARMS
Traps: SNMP Traps via SLIP or via Ethernet
ASCII: Transmitted out async control port
DIAGNOSTICS
LEDs: Network interface status, terminal
interface status, data port status, power/fail,
test active
LCD: Front panel for confi guring, testing, and
display of unit status
Loop Tests: Line loopback, payload loopback,
local loopback, terminal loopback, data
terminal loopback, data port loopback
Line Test Codes: QRS, 3-in-24, 1-in-8, All 1s,
All 0s
Data Test Codes: 511, 2047
BERT Tester: Independent BERT on all test codes
Monitor Jacks: Network interface, transmit and
receive
PERFORMANCE MONITORING
Data Storage: Last 24 hours of data in 15 minute
increments; last 7 days of data in 24-hour
increments
Monitors: Network and terminal interface
Registers Reports: Separate for carrier and user
Based on G.821 for performance
Far end, alarm history, and network interface
statistical reports
COMPATIBILITY
AT&T: TR 54016-1989, TR 62411-1990,
TR 54019A
PUB 43802
ANSI: T1.403-1995
Bellcore: TR.194
REGULATORY
FCC Compliance: Part 68; Part 15, Class A
NRTL Listed: UL 1950, 3rd Edition
CSA: 22.2; No. 950
IC: CS-03
ENVIRONMENT
Operating: 0° to 50° C
5% to 90% RH, non-condensing
Storage: -20° to 66° C, 5% to 95% RH
POWER
AC: 110 to 240 VAC, 50 or 60 Hz, 18W
DC: 24 to 48 VDC, 14W, dual power inputs
PHYSICAL
Usage: Desktop or rack mount (19" or 23")
Dimensions: 17.5" W x 1.72" H x 11.5" D
Weight: 7 lbs. (approximate)