Kentrox DataSMART 656 Single-port T1 DSU CSU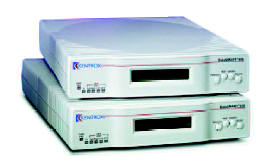 Kentrox DataSMART DataSMART 656 Single-port T1 DSU CSU

Please contact us 301-924-7400
Kentrox DataSMART 656 Single-port T1 DSU CSU
Description
The DataSMART® 656 single-port DSU/CSU is designed to cost-effectively connect your LAN to your corporate network or to the Internet. This DataSMART operates at T1 and fractional T1 rates from 56k to 1.536 Mbps in increments of Nx56 or Nx64 Kbps. The DataSMART 656 operates on point-to-point or Frame Relay networks. The DataSMART 656 is easy to install and maintain using the front panel LCD display or via Telnet or SNMP. The front panel LCD and LEDs indicate signal status and alarms while multiple loopbacks aid troubleshooting. Independent BERT functionality allows the user to send and detect varying test codes. Fully SNMP compliant, the DataSMART 656 can be managed by any SNMP manager. Built in Ethernet and RS-232 control ports provide management interface for local management. In-band management allows end-toend visibility in most networks.
Features
• Connects router, video or any other other serial application
• Supports SNMP and Telnet
• Built in Ethernet management port
• Extensive loopbacks
• Independent BERT
• Front panel LCD display
• DataSMART Installer included at no charge
• Alarms Utility available as a free download from the Kentrox website
• 5-year manufacturer's warranty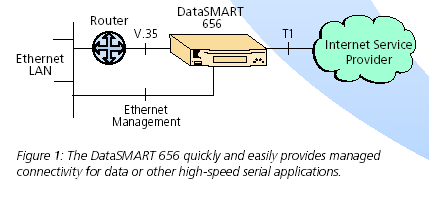 Ordering Information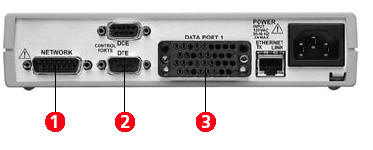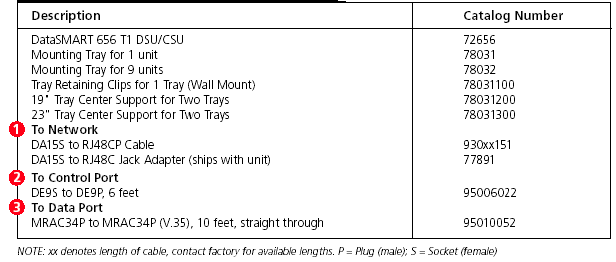 Specifications
NETWORK INTERFACE
Line Rate: Internal or external clock;
1.544 Mb/s ± 50 bps
Line Code: AMI or B8ZS (selectable)
Line Impedance: 100 ohms ± 10 ohms at 772 kHz
Lightning Protection: Withstands lightning surges
defi ned per FCC Part 68, and recovers
Framing Format: SF or ESF per ANSI T1.403-1989,
and TR-54016-1989; Ericcson Framing (defi ned as
valid FT bits only)
Input Level: DSX-1 to -27.5 dB
Input Jitter Tolerance: Per TR 62411-1990 (p.4.7.1)
Output Level: Per ANSI T1.403-1989
3.0 Volt peak ± 10% into 100 ohms at output
connector
Input Signal: Tolerant to impedance mismatches
Line Build Out: 0, 7.5, 15.0 selectable
Output Jitter: TR 62411-1990 (p.4.7.3)
Mechanical: DA15P (DB15 Male)
DATA PORT INTERFACE
Bit Rates: 56 kHz to 1536 kHz
Mechanical: 34-pin MRAC34S connector
Electrical Interface: V.35 compatible
Interface Type: DCE
MANAGEMENT
Control Ports: DE9 Plug (DTE); DE9S Socket (DCE)
Baud Rates: 2400, 9600, 19200, 38400
SNMP Agent: MIB II (RFC 1213), DS1 MIB
(RFC 1406), Enterprise MIB (available at
www.kentrox.com). Telnet Server; responds to
PING; security fi ler for IP source addresses; up to
10 SNMP trap hosts
In-band: FDL or dedicated DS0
REGULATORY
FCC Compliance: Part 68; Part 15, Class A
NRTL Listed: UL 1950, 3rd Edition
CSA: 22.2; No. 950
IC: CS-03
ENVIRONMENT
Operating: 0° to 50° C (5% to 90% RH,
non-condensing)
Storage: -20° C to 66° C (5% to 65% RH)
AC Input Range: 85 to 130 VAC, 47 to 63 Hz
Power Interruptions: Loss of power does not
damage the unit. Loss of power for less than 5
years does not change the confi guration settings
which may have been set by the user. Loss of
power for less than 2 hours (nominal) does not
affect the real-time clock setting.
POWER
AC: 115 VAC, 60 Hz, 7W
PHYSICAL
Usage: Desktop or tray mount
Dimensions: 7.75" W x 1.65" H x 11.5" D
Weight: 2.5 lbs (approx.)
WARRANTY
Hardware: 5 years