Kentrox CrossPATH 3G Flexible T1 Cross Connects
Kentrox CrossPATH ® 3G T1 Cross Connects

Please contact us 301-924-7400
Kentrox CrossPATH® 3G T1 Cross Connects

High-capacity, compact design saves space - Ideal for growing 2G and 3G base stations
Grooms traffic to lower backhaul costs - Intuitive GUI simplifies management
The CrossPATH® 3G from Kentrox®—a leading supplier of CSUs and cross connects to wireless carriers and OEMs—sets new standards for efficiency and innovation. Its economical platform delivers high-capacity base station connectivity for the growth of existing networks and seamless migration to next-generation wireless services. The CrossPATH 3G also leverages cutting-edge QoS router and Web browser GUI technology for unparalleled management flexibility and ease of use.
Features

Up to 16 T1 ports in a compact, single rack-unit design
8 T1 port model for mid-size base stations
16 T1 port model for high-density base stations
16 T1 port with DS3 model for high-density base stations with DS3 backhaul
All ports and LEDs on front panel for easy access in rack
Supports 2G to 3G wireless traffic for incremental service upgrades without additional hardware investments
Complete DS1/DS0 grooming and crossconnect functionality, easily configurable in browser-based GUI
Best-in-class lightning protection
Graphical user interface simplifies installation and management
Integrated QoS router for Ethernet connectivity and management
Local and remote network monitoring minimize downtime
SNMP and traps support existing management systems
Integrated CSU functionality on all T1 ports for built-in fault protection and diagnostics
High-capacity, compact design

The CrossPATH 3G is a cost-effective alternative to multiple hardware devices and unnecessary backhaul circuits. Occupying only a single rack unit, each CrossPATH 3G model offers an unprecedented concentration of ports—all located on the front panel
for easy access:
• 8 T1 ports (model 77750) or 16 T1 ports (model 77760) or 16 T1 ports with channelized DS3 (model 77765)
• 1 V.35 port for E-911 locator equipment
• Four 10/100 Ethernet ports

Ready for base-station growth and 3G service

The migration to 3G service can be an expensive and time-consuming proposition if the base station equipment consists of single-purpose devices. The CrossPATH 3G's integrated features simplify the addition of circuits and next-generation wireless services for a rapid return on investment.
• Exceptional port density to accommodate new circuits and connection types
• Simultaneous support of 2G and 3G services
• 3G services via T1 and Ethernet
• Transparent T1 pass-through of ATM, IMA, and IP traffic

Lower cost of ownership

Cost-saving opportunities extend well beyond the initial purchase and deployment of equipment.
• Integrated platform allows quicker installations and easier maintenance
• Standards-based features reduce or eliminate the need for retraining field technicians and network administrators
• Flexible grooming options—any DS0 to any DS0 and any DS1 to any DS1—can eliminate unnecessary T1 backhaul circuits
• Browser-based GUI makes short work of otherwise difficult tasks, such as configuring cross connections
• Easy access for local field technicians to the corporate network makes service visits quicker and easier
Simplified setup and management

The CrossPATH 3G includes a browser-based GUI that dramatically simplifies installation, configuration and network management:
• Configuring cross connects is quick and easy
• System configurations can be saved and downloaded to other CrossPATH 3Gs for multi-site deployments or spares
• SNMP and traps support existing management systems In addition, a command line interface (CLI) is included for remote Telnet access or configuration scripting. Both the GUI and CLI are accessible through local interfaces or remotely via redundant in-band connections.
Best-in-class lightning protection

Kentrox has been manufacturing reliable base-station equipment for over a decade. Unlike equipment from other manufacturers, the CrossPATH 3G's robust design will not degrade with each lightning strike. The CrossPATH 3G recovers fully, resulting in fewer outages and better protection for radio equipment.
QoS routing for flexibility

An integrated QoS Access Router offers management flexibility and IP radio traffic support on up to two T1 circuits. On-site technicians can plug their laptop computer into an Ethernet port and access the corporate network to check e-mail, view provisioning records, or close trouble tickets and service orders. Remote in-band management of the radios is also
possible by connecting radio Ethernet management ports to the router. With built-in DiffServ QoS, the router is capable of prioritizing IP traffic from new radios or E-911 equipment with Ethernet interfaces.

Protect your network investment with support plans and technical training

To keep your network healthy and productive, Kentrox offers Kentrox Care Support Plans for our CrossPATH 3G products.

APPLICATIONS & CHASSIS VIEWS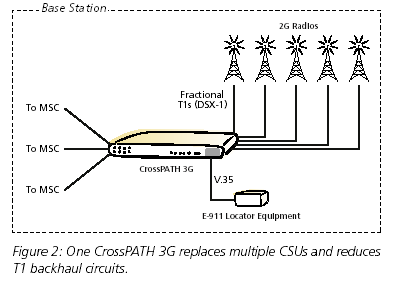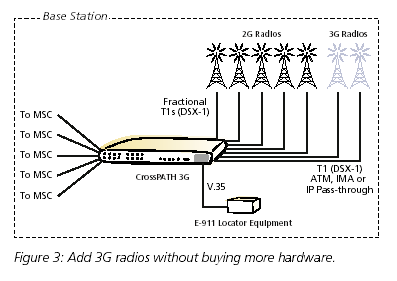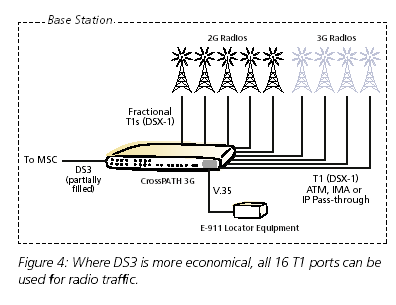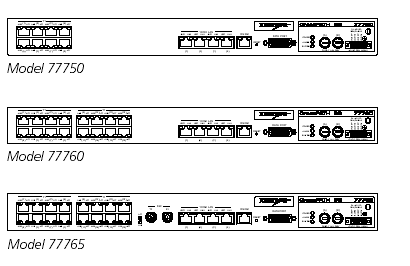 Items included with the 77750, 77760 and 77765:
- Installation instructions and User Documentation CD
- One 6' Ethernet LAN cable, Cat 5E
- One RS-232 adapter for CLI access
- One 19" rack mounting kit
T1 network cable, RJ48C plug to RJ48C plug 930xx143

Note: xx denotes length of cable; 10', 15', 25' are standard lengths;
contact us for other available lengths
SPECIFICATIONS
INTERFACES
Model 77750:
T1 8 T1 ports, DS1 or DSX-1 (RJ45)
Model 77760:
T1 16 T1 ports, DS1 or DSX-1 (RJ45)
Model 77765:
T1 16 T1 ports, DS1 or DSX-1 (RJ45)
DS3 1 Tx port and 1 Rx port (BNC)
All Models:
10/100 LAN Four-port 10/100Base-Tx switch; auto-sensing, auto-polarity (RJ45)
RS-232 One serial management port (RJ45)
V.35 One serial data port for E-911 locator equipment (DA26)
Power input Support two external redundant supplies
MANAGEMENT/ADMINISTRATION
GUI Browser-based, Web-style GUI (accessible from 10/100 LAN port or in-band DS0s)
Access Management Three levels—admin, con.gure, view; up to 10 users with passwords
Logs Alarm, Event, Admin, Syslog
Reports T1 network performance statistics (24 hrs. x 15 min.)
Router traffic reports: protocol, QoS, policy
SNMP Traps, MIB II, DS1, I/F MIBs, Frame Relay DTE MIB
Updates Software updates via FTP or GUI
CLI Command line interface (CLI) accessible via Telnet, SSH,
10/100 LAN, RS-232 port, or in-band IP
Real-time Clock SNTP support and 8-hour power failure backup
ROUTER
Routing Static, RIP v1/ v2 and OSPF
PPP and Frame Relay
DHCP server, relay
DNS client, relay
VLAN support for 8 LAN subnets
QoS Class-based Weighted Fair Queuing
Auto DiffServ/ToS-based priority queuing
VoIP and video prioritization
All DiffServ classes supported
Con.gurable queue weighting
Marking Con.gurable QoS marking
Policies 32 user-con.gurable QoS policies for prioritization by
source and destination addresses, port, protocol,
DiffServ Code Point (DSCP)
Monitoring QoS traf.c reports and graphs
Con.gurable WAN Latency report
Standards Supports 802.1P user priority and VLAN 802.1Q tags
DIAGNOSTIC LEDS (FRONT PANEL)
Power Power on/off
Alarm Interface alarm condition
System System status, security alert
T1 Alarm, status
DS3 Alarm, status
10/100 LAN Speed, link activity
PHYSICAL
Dimensions 1.7" H x 17" W x 11.9" D
(44mm H x 432mm W x 303mm D)
Weight Approximately 5.5 lbs. (2.5 kg)
Power 24–48 VDC, 20 W, 1A maximum
Mounting 1 RU high in 19" rack (brackets included)
ENVIRONMENT
Operating -20° to 65°C (-4° to 149°F)
5% to 95% RH (non-condensing)
Storage -40° to 70°C (-40° to 158°F)
5% to 95% RH (non-condensing)
REGULATORY
Emissions FCC 47 CFR 15 Class A
Safety IEC 60950
Terminal ACTA TIA-968-A-2, IC CS.03
Lightning Telcordia GR 1089 Issue 2 Section 4.5