GDI Fast Poll FlashPoll Modems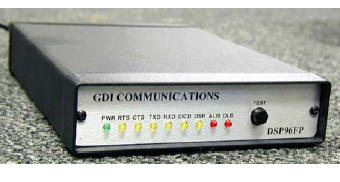 DSP496FP-SA—Standalone Modem
DSP496FP—Internal 170 Single Modem Card
DSP896FP—Internal 170 Dual Modem Card
1-301-924-7400 ext. 17
Features

* Dual Mode: 9600/4800 bps and FSK, Bell 202T, 0-1800 bps
* Fast Train modem equalizer with 23 ms RTS/CTS delay
* DSP design with automatic adaptive equalizer
* Leased Line interface protected with heavy-duty surge protection
* Available in standalone and rack mount versions
* Low voltage model available
Description

The GDI DSP-FP modem series features a dual mode full-featured 9600 Fast Poll and Bell 202T leased line modem with the fastest training time in the industry: 23 ms RTS/CTS delay. The GDI DSP-FP series modems are ideal for multi-drop applications.

The GDI DSP-FP series is designed for 4-wire full duplex or 2-wire half duplex operation over voice-based leased lines or private metallic circuits. The modem utilizes the latest digital-signal processing (DSP) technology to achieve high performance.

In FlashPoll mode (9600/4800 bps), the GDI DSP series employs a proprietary modulation and encoding scheme to achieve fast modem training time. In Bell 202T Mode, the modem is alsobackward compatible with Bell 202T (0-1800 bps) modems.

Ideal for systems where fast response, short training and low throughput delay is required, the GDI DSP-FP series is optimized for fast receiver equalizer training and extremely high throughput.
The dual mode capability allows the GDI DSP series to communicate with existing Bell 202T (0-1800 bps) remote modems, which then can be upgraded at a later date to GDI DSP series standalone or rack mount modems.
FlashPoll General Specifications

Data Format FlashPoll Mode: 9600 , 4800 or 0-1800 bps asynchronous
Data Format 8 or 9 data bits with 1 or more stop bits
Line Requirement TELCO voice band 4 or 2 wire leased line or Private metallic circuits, 26 to 19 AWG

Operating Modes 2-wire half duplex or 4-wire full duplex

Modulation Proprietary (FlashPoll mode) and FSK (Bell 202T mode)
Equalizer Automatic, adaptive
Training Time RTS to CTS Delay FlashPoll Mode: 23ms
Bell 202T Mode: 8,33,59,219 ms

Cable Equalizer Fixed Transmitter and Receiver cable equalizer, selectable
Carrier Control Constant or switched, Dip switch selectable
Carrier Loss Recovery Built-in Train on Data
Receiver Dynamic Range 0 to –30 dBm or –10 to –43 dBm
(Dip switch selectable)
Operating Temperature -40 C to +85 C

Input Voltage Requirements

Standalone 85 to 265 VAC, 50/60 HZ or 10 to 53 VDC
Low Voltage Standalone 10 to 53 VDC
Rack Mount Supplied by rack
Surge Protection Provided at power line and leased line (up to 15 KV, standalone version)

Mechanical
Standalone 5.7"W x 8.3"D x 1.5"H 1.9 lb
Rack Mount 9"D x 6.25"H x 0.87"T 8 oz

Interface Connectors
Connectors 4-position screw terminal.
2 or 4-wire leased line or metallic circuit (DC currently not supported)
Data Terminal Equipment DB-25 Female

Diagnostic Features

Front Panel LED for Status Monitoring
Power (PWR)
Request to send (RTS)
Clear to send (CTS)
Data set ready (DSR)
Data Carrier Detect (DCD)
Transmit Data (TXD)
Receive Data (RXD)
Analog loopback (ALB)
Digitial loopback (DLB)

Front Panel loopback control for testing
Local Analog loopback (ALB)
Local Digital loopback (DLB)
Remote Digital loopbak (RDL)