GarrettCom 10Mb Stackable ST80 Hub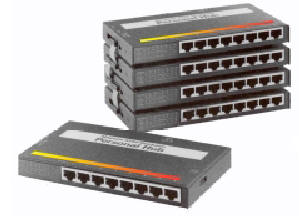 Call us for Pre-sales and discount pricing on GarrettCom 10Mb Stackable ST80 Hub
301-924-7400 Support
GarrettCom 10Mb Stackable ST80 Hub
Features
• Plug-and-play installation, easily expandable, for small office and lab networks that need to grow
• Stackable up to five units high. Eight RJ-45 ports at 10Mb per unit plus one AUI port and an optional BNC or fiber port
• Twisted-pair wiring interconnection to other hubs via uplink switch on one port.
• Any combination of PCs, Macs, UNIX workstations, portables, servers, networked printers, and other devices supported
• Durable metal enclosure, external power supply for either 115 or 230 volt environments
Description
Magnum ST80 Stackable Personal Hubs combine the easy expandability of a 10Mb stackable hub system with the convenience and simplicity of a small foot-print solution. Smaller than a paperback book, an ST80 unit is easy to-install in an office, lab, support center, conference room, trade show, or sales demo facility.

Stackable Personal Hubs can stack up to five high to support as many as 40 twisted-pair ports, yet act as a single-repeater unit. Each full-function ST80 hub has eight 10Mb RJ-45 ports plus one standard AUI port and an optional BNC or fiber port for flexibility in connecting to network backbones and specialized devices.

ST80 Stackable Personal Hubs can expand Ethernet connectivity in existing workspaces and offices. An up-link port can connect the ST80 unit or stack to a central network using an existing RJ-45 outlet to support additional PCs, workstations, and other networked devices. When the up-link port is switched off, the full 10 Mbps Ethernet capacity of the Magnum ST80 stack is available for network activity within the local office or lab area.

Expanding an ST80 stack is easy. The units attach to each other using small metal brackets that come with each unit. The inter- repeater-bus cable plugs in on the side. Switches are then set to enable single-repeater stacked operation. ST80 Stackable Personal Hubs can be located on any convenient desktop or shelf in the workplace. The external power supply plugs into a nearby AC wall socket or power strip.

ST80 Hubs are compatible with all networking software environments and support full-length twisted-pair segment distances. Magnum ST80 Stackable Personal Hubs and all other Magnum products are designed and manufactured in the USA and are backed by a three-year warranty.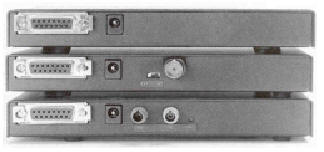 Specifications
PERFORMANCE: Data Rate: 10 Mbits / second Partitioning: Enforced after 32 consecutive collisions Reconnect: Occurs after 512 bits of error-free transmission

MAXIMUM STANDARD ETHERNET LENGTHS: 10BASE-T (UTP): 100m (328 ft) AUI drop cable: 50m (164 ft) 10BASE2 (ThinNet,): 185m (607 ft) 10BASE5 (ThickNet): 500m (1,640 ft) 10BASE-FL (mm. fiber): 2 km (6,562 ft)

NETWORK STANDARDS: Ethernet V1.0/V2.0, IEEE 802.3; 10BASE-T, 10BASE2, 10BASE-FL Magnum Stackable Personal Hubs are physical layer standard Ethernet products, and operate in networks independently of all software

OPERATING ENVIRONMENT: Ambient: 32° to 120°F (0° to 50°C) Storage: -20°C to 60° C Ambient relative humidity: 10% to 95% (non-condensing)

POWER SUPPLY (EXTERNAL): Power Input Voltage: 95 - 125 vac at 60 Hz for "-d" Models, 200 – 250 vac at 50 Hz for "-i" Models that have IEC power cable connector in the external power unit. Power Consumption: ST80: 10 watts max., ST80-B and ST80-F: 12 watts max DC input jack is 12V 1a center positive

CONNECTORS: ST80: Eight front shielded RJ-45 ports (one with up-link switch); one rear AUI, female, with slide lock; two inter-repeater bus connectors on the side ST80-B: Same as ST80, plus one rear BNC port with internal termination switch ST80-F: Same as ST80, plus one rear Fiber-ST type port Shielded 10BASE-T connectors accept either unshielded or shielded wiring plugs for standard twisted-pair media wiring.

PACKAGING: Enclosure: High-strength steel, suitable for vertical or horizontal mounting Dimensions: 6.75 in x 4.0 in x 1.0 in (17.1 cm x 10.1 cm x 2.5 cm) Weight: 1.3 lb (600 gr) Power Supply: 1.0 lb (455 gr) Cooling method: Convection

SWITCHES: Up-Link: Thumb-operated slide switch, converts RJ-45 port # 8 from a regular (= position) user segment port to a crossover (X position) up-link port for on-off connection to another hub. Stack Enable: Manual slide switch, indicates the ST80 is used standalone or as a base unit, or is used as additional unit in a stack. Internal Termination Switch (ST80-B only): Allows BNC cable connection without a "tee" connector and 50 ohm terminator, or requires a "tee" when switched.

LED INDICATORS: PWR: Steady on when power applied COL: Blinks yellow for a transmit collision LINK/TX (Per Port): Steady on when there is proper connection and power on both ends of the TP cable. Blinks as packets are transmitted on the port. POL/RX (Per Port): Blinks when port receives packets, steady on when reverse polarity detected.

AGENCY APPROVALS: UL Listed (UL1950), cUL, CE Meets FCC Part 15, Class B

WARRANTY: Three years Made in USA
- Purchase orders accepted on GarrettCom, Inc. equipment
- Contract Buying and Volume Discounts available !!
- Please contact us 301-924-7400