GarrettCom Quad-Series Fiber Switches
up to 16 ports, configurable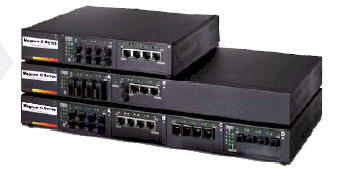 Call us for Pre-sales and discount pricing on
Garrett Magnum Quad-Series Fiber Switches

301-924-7400 Support
Magnum Quad-Series Fiber Switches
up to 16 ports, configurable

Features

• Quad-switch modules allow user selection of mixed-media Fiber ports (all connector types) and 10/100 Mb Twisted-Pair ports
• Provides switching services to enhance the performance of 10/100 Mb Ethernet networks by segmenting the network traffic
• High performance operation, plug-and-play installation for switching services, transparent to system software
• Has a compact package for installation in offices and labs, with metal case and autoranging internal power supply
• Available options include AC, or -48VDC, 24VDC, 100VDC, and 125VDC power, dual-source, "Reverse" rack mount, ETSI and 23" Telco brackets
Description
Magnum Quad-Series Fiber Switches boost the performance of large Ethernet LANs, with the flexibility of both fiber and twisted-pair switched ports. Any mix of fiber or RJ-45, 100 Mb or 10 Mb switched ports and connector types may be configured. The Magnum Quad-Series provide the switching speed and the reliability needed for increased network performance using any available fiber media type or twisted-pair cabling.

The Magnum Quad-Series Fiber Switches offer the maximum in application flexibility with a series of fiber and twisted-pair port connector types. All applicable fiber port types (100 Mb FX-ST, SC, MTRJ, and 10 Mb FL) and cable modes (2Km multi-mode, 20Km single-mode and 40Km "long reach" single-mode) are configurable in 4-port modules. Mixed-media combination modules (4-port modules with one fiber port and three twisted-pair ports) are also supported in all of the Quad-Series switch models.

In a common application, groups of standard dual-speed 10/100 hubs, 10 Mb hubs, or 100 Mb hubs and switches would form a series of subnets for workgroups or multi-system power users. A separate switched port on a Magnum Quad-Series Switch would serve each subnet, and each of these subnets would have full 100 Mb or 10 Mb bandwidth. Local traffic on one subnet, either 100 Mb or 10 Mb, is switch-isolated from the other subnets for high overall network performance.

Designed for use in organizations with multiple workgroups, remote offices and network traffic centers, the Magnum Quad-Series
Switches are easy to install and use. Addresses of attached nodes are automatically learned and maintained, adapting the switching services to network changes and expansions to provide plug-and-play operation. Front-mounted LEDs provide status information on each port. Large 8 MB packet buffers provide advanced performance, even with unbalanced loads. Store-and-forward switching filters all faulty packets to minimize traffic congestion.

Magnum Quad-Series Fiber Switches have a rugged metal case and an auto-ranging power supply for operation with standard AC power worldwide. The Quad-series and all other Magnum products are designed and manufactured in the USA and backed by a three-year warranty.
Specifications
PERFORMANCE:
RJ-45 Ports: 100 or 10 Mbps, full- or half-duplex mode, per port, individually determined. 10/100 auto-negotiating,
FDX/HDX (internal jumper can select 100 only)
Fiber Ports (multi-mode and single-mode): 100 Mb speed per port based on the fiber connector part. FDX or HDX, default is
FDX mode. (Internal jumper can select FDX-only)
All Ports:
Processing type: Store and Forward with IEEE 802.3x full-duplex flow control, non-blocking
System aggregate forward and filter rate: 2.3M pps (all ports 100Mb speed) System (16p)
Address table: 32K nodes, self-learning, with address aging
Packet buffers: 8 MB dynamic
Latency: 5µs + packet time max (TX - TX, TX - FX, FX - FX)
PDV: 50 BT

NETWORK STANDARDS:
IEEE 802.3u: 100BASE-TX, -FX, IEEE 802.3: 10BASE-T
Auto-negotiation on TP, IEEE 802.3u
All 10 Mb ports obey the rules for configuring 10Mb Ethernet
All 100 Mb ports use Fast Ethernet rules

OPERATING ENVIRONMENT:
Ambient: 32° to 120°F (0° to 50°C)
Storage: -5°to 160°F (-20°to 70°C),
Ambient relative humidity: 10% to 95% (non-condensing)
Conformal coating option: Request for quote

SWITCHES ON CHASSIS, MANUAL:
Power ON-OFF, in rear at power input

NETWORK CABLE CONNECTORS:
RJ-45 shielded female ports
100 Mb: Category 5 UTP/STP 10 Mb: Cat. 3,4, 5 UTP
Fiber ports connector options: multi-mode FX-ST, SC, MTRJ; singlemode
20Km SC, and 40Km "long reach" single-mode SC.

AC POWER SUPPLY (INTERNAL):
AC Power Connector: IEC-type, male recessed, ON/OFF switch.
Power Input Voltage: 100 - 240 VAC (auto ranging)
Power Input Frequency: 47 to 63 Hz
Power Consumption: 8-port models, 20 watts typical; 16-ports, 35
watts typical, 65 watts max.
DC POWER SUPPLY OPTIONS:
-48VDC: Input -36 to -70 VDC (auto-ranging)
24VDC: Input 20 to 40VDC
100VDC: Input 90 to 160VDC
125VDC: Input 120 to 160VDC
Std. Terminal Block: "-, GND, +",
Power Consumption: Same as AC

DC DUAL POWER SOURCE (OPTIONAL)
The Magnum Quad-Series may be ordered with optional Dual DC
power input, for continuity of operation when either one of the DC
input sources is interrupted. Available for -48VDC, 24VDC, 100VDC
and 125VDC input types.

MECHANICAL:
Enclosure: Rugged high-strength sheet metal. Suitable for standalone
or rack-mounting.
Cooling Method: Fan cooled, internal 9cfm
Dimensions: 1.75 in H x 17.0 in W x 9.13 in D (10.0 in W for QS580)
4.45 cm H x 43.2 cm W x 23.2 cm D (25.4 cm W for QS580)
Weight: rack-mount 4.0lb. (1.8 kg)

LED INDICATORS PER RJ-45 PORT:
LK: Steady on when twisted-pair link is operational.
ACT: On with port activity
FDX/HDX: ON = full-duplex mode, OFF = half-duplex mode.
100/10 ON = 100Mbps speed, OFF = 10 Mbps
LED INDICATORS, FIBER PORTS:
LK: Steady on when fiber link is operational.
ACT: On with port activity, FDX/HDX and 100/10 as above.

PER-PORT SWITCHES, JUMPERS:
Up-link (RJ-45 ports only): 1 up-link per 4 RJ-45 quad-port module
only.
F/H (fiber ports only): Default = FDX
(Internal jumper selects HDX mode)
Mode RJ-45 ports only: Default = Auto-negotiation. (Internal
jumpers select 100 Mb-only, auto / full-or half-duplex)

AGENCY APPROVALS:
UL Listed (UL1950), cUL, CE, Emissions meet FCC Part 15,
Class A

WARRANTY:
Three years Made in USA
Magnum Quad-Series Fiber Switches Ordering
- Purchase orders accepted on GarrettCom, Inc. equipment
- Contract Buying and Volume Discounts available !!
- Please contact us 301-924-7400