GarrettCom mP62
Managed Hardened Switch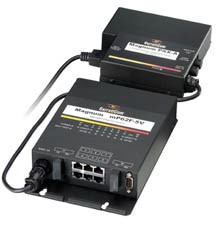 Call us for Pre-sales and discount pricing on
Garrett 6K32 Magnum mP62
301-924-7400 Support
GMagnum mP62 Managed Hardened Switch
Features

• Managed Ethernet Switch, provides six 10/100 switched RJ-45 ports and two 100 Mb fiber ports
• Designed for un-heated / uncooled "outdoor" applications. Convection cooled, sealed case with no fans and no air vent openings
• Software includes SNMP, QoS, Telnet, Security, STP, VLAN, BootP / DHCP
• Two 100 Mb fiber ports built in, with Link-Loss-Learn™ feature. Connectors may be mm SC, 20km sgl-m SC, or other specialty types
• Normally AC-powered via Magnum PSX-A unit. DCpowered models for -48VDC, 5VDC, 24VDC, 125VDC or 250VDC also availablet
Description
When Ethernet LAN switches need to move out of temperature controlled friendly offices and into harsh environments with inhospitable high/low temperatures, the Magnum™ mP62 Managed Switch is the solution. Software for the mP62 Switches provides network management support based on industry standards, making them readily used in existing and/or mixed-vendor Ethernet LAN applications. The menu-driven software supports managed edge-switch functions including SNMP, QoS, Telnet, Password Security, Port Settings Control, Spanning Tree Protocol, port-based VLANs, BootP / DHCP, and GUI network management. In addition, the Link-Loss-Learn™ feature allows rapid operating recovery from a fault. See also the S-Ring™ product for redundant ring management.

Designed to operate in temperature uncontrolled applications, the mP62 case was engineered to function as a heat sink to draw internally generated heat away from the electronics and dissipate it. The result is a product that can take the heat... and the cold.
Unique thermal techniques (patent pending) developed by GarrettCom technologists extend the ambient temperature operating range
beyond standard product ratings, and improve operating lifetime and reliability. Ambient operating temperatures range from –40°C to +75°C. The extreme temperature Ethernet technology was derived from the proven companion product, the Magnum P62F Switch, already widely in use in Power Utility, Traffic Control Systems and other Outdoor Industrial Ethernet LAN applications.

The mP62 case is sealed preventing problem elements from entering the unit. There is no convection air flowing through the unit, no cooling fan failure to worry about, and no spiders or insect penetration. In addition, the mP62 will allow no smoke inside, preventing internal damage to the electronics in case of fire.

Applications for the mP62 include power utility plants and substations, roadside traffic control stations, unheated or high temperature industrial plant locations, above the ceiling locations in commercial buildings, data communications huts and pedestals, and military field operations sites. When mounted in the field, the mP62 is typically fastened to a metal pedestal or post. This provides an even larger heat sink to normalize the operating temperature of the electronics in the mP62. The mP62's package is IEC 529 rated IP51 and, while not waterproof, it can be placed in NEMA 4 boxes, IP65 enclosures and similar waterproof enclosures to provide an all-weather outdoor solution.
Specifications
PERFORMANCE:
RJ-45 Ports: # 2-6 are 100/10 Mbps, S/W control for speed and F/H duplex.
Note – Crossover ( MDI vs. MDIX) is automatically handled on all RJ-45 ports.
Fiber Ports: #1 and 8 are 100 Mb fiber, multi-mode or single-mode,S/W for
F/H
Switching type: all ports non-blocking; S and F with IEEE 802.3x flow control.
Aggregate forwarding and filtering rate:1190K pps 100BASE-TX/FX
Packet buffers: 256KB PDV: 50BT
Address Table size: 4K nodes, resets upon Link-loss on user-selected ports
Latency: less than 5 microseconds (not including packet time)

NETWORK STANDARDS:
Ethernet: IEEE 802.1p, 802.1d STP, 100BASE-TX, FX; IEEE 802.3, 10BASE-T
Auto Negotiation (when ON): IEEE 802.3u, occurs at LINK enable
See MNS-mP datasheet for sofware network standards.
All 10Mb ports obey rules for 10Mb Ethernet, all 100Mb Fast Ethernet

STANDARD SOFTWARE:
See MNS-mP datasheet.

LINK-LOSS-LEARN FEATURE (patent pending)
A Link-Loss on user-designated ports immediately triggers new MAC address
learning in the Switch address table, providing faster fault recovery. See also the
S-Ring™ product for redundant ring management.

LED INDICATORS: (LEDs are viewed from the top surface)
Power (on chassis): Steady on when power applied
Per Port Speed: ON = 100Mb; OFF = 10Mb (with LINK On)
Link/Act: Steady ON for LINK with no traffic, blinking for Activity
F/H: ON for full-duplex mode, OFF for half-duplex

MANAGEMENT CONSOLE CABLE CONNECTOR:
DB9 male, accepts industry standard null-modem cable.
(software is installed or uploaded via a PC on the console port, or via TFTP).

NETWORK CABLE CONNECTORS:
Fiber: 100Mb mm SC, 100Mb Sgl-m SC-type 20km (other types via RFQ)
RJ-45s with Auto-MDIX, 100Mb: Cat. 5 UTP/STP, 10 Mb: Cat. 3,4, 5 UTP

POWER SUPPLY:
Power Consumption: 10 watts typical, 2A at 5VDC
mP62-5V Power Input: 5VDC, screw-lock connector, typically for use with
Magnum PSX-A or PSX-T Power Source, rated for 15 watts at -40°C to 75°C.
Note: See PSX datasheet for details on AC, 125VDC and 250VDC power input
mP62 DC Power Input: 20-60VDC auto-ranging, floating + and – screw
terminals.Typically for use where 24VDC or –48VDC power is available.
- Purchase orders accepted on GarrettCom, Inc. equipment
- Contract Buying and Volume Discounts available !!
- Please contact us 301-924-7400