GarrettCom FT14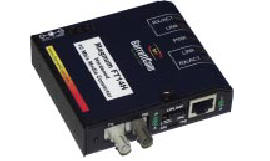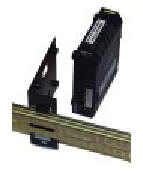 Call us for Pre-sales and discount pricing on Magnum FT14 301-924-7400 Support
GarrettCom FT14
Features • Two models, regular for wiring closets and Hardened for Industrial • Family of temperature ratings and power supply types, external AC and internal DC • All models provide an uplink switch on the RJ-45 port, Link Pass-Through • Two sets of LEDs, on beveled facing and on the end, provide status information from any direction • Metal enclosure. Panel mounting, DIN-Rail or, Rack-mount tray option
Description
Robust packaging, extended temperatures models, a selection of AC and DC power types, ease-of-use features, and energy efficiency are the primary characteristics of the Magnum™ 10Mb FT14 regular and FT14H Hardened Media Converters. All models offer a graceful way to convert and transfer data between twisted pair and fiber ST-type multi-mode and single-mode network cables for media flexibility in new or expanded 10Mb Ethernet networks. They comply with the Ethernet V1.0 / 2.0 specifications and the IEEE 802.3 standards. Power consumed in use is only 1.5 watts.

The FT14 units are for wiring closet and factory floor environments and use an external AC power supply for 0° to 50°C ambient temperature. All power supply units are UL and CE tested and approved for their specified rating. A heavy duty metal case with convection cooling is featured. The units can be mounted securely on a closet wall or the side of cabinet by using the metal panel mounting clips included. A rack-mount tray option is available, for up to 16 units.

The FT14H Hardened unit features a sealed metal case which is also used as a heat sink. No internal air flow is required for cooling, so the FT14H resists dust, dirt, moisture, insects and smoke, and prevents internal damage to the unit in case of fire.

Choices of FT14H models for external AC or internal DC power are available. The DC power input may be nominally 9V, 24V, or -48V. Ambient temperature rating is up to –40°C to +75°C depending on the power source option used. The FT14H is suitable for temperature un-controlled "outdoor" applications. Mounting options include panel-mounting, DIN-rail, or rack-mount tray.

Magnum FT14 and FT14H 10Mb Fiber Media Converters are designed to provide reliable operation, even in stressed industrial-strength environments. Their high-strength fabricated metal packaging shields against Radio Frequency Interference (RFI) and Electromagnetic Interference (EMI). Like all Magnum Ethernet connectivity products, they are backed by a three year warranty.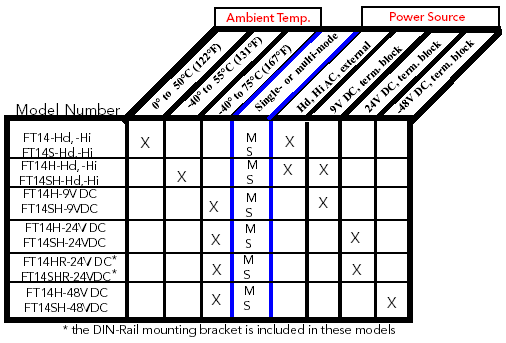 Specifications
PERFORMANCE: Data Rate: 10Mb Operates transparently in half- or full-duplex mode Link Pass-through feature: - special order on FT14 models, - standard feature on FT14H models.

NETWORK STANDARDS: Ethernet: IEEE 802.3, 10BASE-T, 10BASE-FL

OPERATING ENVIRONMENT: Ambient Temperature - see Matrix below Cold start down to -25°C Storage temperature: -40° to 185°F (-40°to 85°C) Ambient Relative Humidity: 5% - 95% (non-condensing) Conformal coating (humidity protection) option, request quote. Designed for NEBS compliance, including vibration, shock, and altitude

PACKAGING: Enclosure: Rugged sheet metal (steel) Dimensions of units: 3.5 in H x 3.0 in W x 1.0 in D (8.9 cm x 7.6 cm x 2.5 cm) Weight: Media Converter Units: 4.6 oz (130g) Power Supply - Hd, Hi: 3 oz (85g) Cooling Method: Convection. Case used as a heat sink on "H" models. Metal panel mounting clips: included DIN-Rail mounting option: Model # DIN-RAIL MC2, illustrated here; Rack-mount option: Model MC14-TRAY. Depth: 6.0", Width 17" Height: 2.25"(15 cm D x 43 cm W x 5.7 cm H)

CONNECTORS: RJ-45 Port: Shielded 8-Pin female, with up-link switch Fiber Port: Standard ST-type, multi-mode and single-mode models Distance: 2km multi-mode, 10km single-mode FDX, 5km HDX. For specialty fiber types such as FC, request quote

LED INDICATORS: PWR: Steady on when power applied. LINK: (per port) Steady ON when attached cable segments are operational at the other end, Both LEDs must be ON for link pass through. RX: (per port) Indicates activity, port is receiving data.

POWER SUPPLY: Power Input 9V DC jack is 2.5mm center +ve jack, with 6ft. cord -Hd: external, 100-240V AC at 50-60Hz ( see footnote 1) -Hi: external, 100-240V AC at 50-60Hz, includes power plug adapters for international receptacles (see footnote 2) 9V DC internal (range of 7.5 to 15V DC), built-in screw terminal block for +, -, ground. The 9V DC jack is also present. 24V DC internal (range of 18 to 36V DC) built-in screw terminal block for +, -, ground. The 9V DC jack is also present. -48V DC internal (range of 30 to 60V DC), built-in screw terminal block for +, -, ground. The 9V DC jack is also present. Power Consumption, all models: 1.5 Watts typical, 2 Watts max.

AGENCY APPROVALS AND STANDARDS COMPLIANCE: UL listed (UL60950), cUL, CE, Emissions meet FCC Part 15, Class A. NEBS L3 and ETSI compliant H model: IEEE P1613 Env. Std for Electric Power Substations H model: NEMA TS-2 and TEES for traffic control equipment H model: designed for UL 2043 above-the-ceiling installation IEC61850 EMC and Operating Conditions Class C for Power Substations

WARRANTY: Three years Made in USA
- Purchase orders accepted on GarrettCom, Inc. equipment
- Contract Buying and Volume Discounts available !!
- Please contact us 301-924-7400