GarrettCom DS8016
16 ports, copper, stackable Magnum 8000X, up to 16 ports, configurable, fiber, copper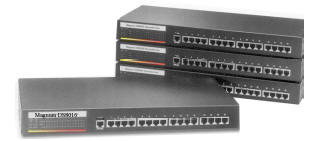 Call us for Pre-sales and discount pricing on
Garrett Magnum DS8016
301-924-7400 Support
GarrettCom DS8016
Features
• Provides sixteen RJ-45 ports per hub, each port speed-sensing for 100Mb or 10Mb
• Combines both 100Mb and 10Mb port speeds with stackability for expansion, for flexibility in rack installations
• Durable metal enclosure, stacking cable, rack-mount brackets, rubber feet for tabletop mounting, internal auto-ranging power supply
• Available options include -48VDC power, dual source, "reverse" rack mount, ETSI and 23" Telco brackets
• NEBS compliant -48VDC models

Description
Magnum DS8016 Stackable Hubs provide the flexibility of 100Mb and 10Mb Ethernet ports in one hub along with the expandability of stacking. Medium-sized networks that need to mix ports at 100Mb performance for high bandwidth applications with economical 10Mb ports for other nodes can benefit from the domain-switched dualspeed 10/100 Magnum DS8016s.

Dual-speed network chip technology enables the Magnum DS8016 Dual-Speed hubs to identify and accept either 100Mb or 10Mb signals on a per-port basis. Each RJ-45 port is independently auto-sensing for speed, adapting at the time of LINK-enable to match the speed of the connected device. This capability provides the ultimate in flexibility for small-to-medium sized mixed-speed networks that are gradually transitioning from 10Mb Ethernet to 100Mb Fast Ethernet speed.

The Magnum DS8016 Dual-Speed units support two shared traffic domains, one at 100Mb and one at 10Mb. Each port is connected into the appropriate 100Mb or 10Mb domain, depending on its speed as sensed. Any combination of 100Mb or 10Mb ports may be in use.

The B- models of the Magnum DS8016 Domain-Switched hubs include an internal switch or bridge to interconnect the two shared traffic domains, enabling all users on a DS8016 stack, whether 100Mb or 10Mb, to talk to each other. This self-learning switch filters and selectively forwards packets between the two traffic domains, unifying them. Each domain's performance is maintained at its peak potential, unaffected by local traffic on the other domain. Only one DS8016 with an internal switch unit is necessary to support the entire stack.

The Magnum DS8016 is also available in "Reverse" models with front-mounted LEDs, rear ports and power connection. The Magnum DS8016 stackable hub and other Magnum products are made in the USA and are backed by a three-year warranty.
Specifications
PERFORMANCE: Data Rate: 100 or 10Mbits / second, per port, auto-sensing for speed. The hub supports two traffic domains, one at 100Mb and one at 10Mb, operating concurrently PDV (100M Path Delay Value): 80BT exceeds Class II specification Partitioning: Enforced after 63 consecutive collisions Auto-reconnect: Occurs after one packet of error-free reception

INTERNAL SWITCH or BRIDGE: (One per stack, optional, to interconnect the two traffic domains) Processing type: Store and Forward Address Table: 8K, self-learning Packet buffers: 2MB, dynamically allocated for both sides Latency (not including packet time): 100 to 10Mb: 5µs

NETWORK STANDARDS: 100Mb: IEEE 802.3u, 100BASE-TX 10Mb: IEEE 802.3, 10BASE-T Auto Speed-Sensing: IEEE 802.3u

OPERATING ENVIRONMENT: Ambient Temperature: 32° to 120°F (0° to 50°C) Storage: -40°to 160°F (-40°to 70°C) Ambient Relative Humidity: 5% - 95% (non-condensing)

STACKING CABLE: A stacking cable with 25-pin "DB-25" male connectors, shielded, 8 in (20cm) long, included with each DS8016-A (add-on) and DS8016-E (100Mb) unit; Stacks with 8000X Mixed Media Hubs. Supports stacking up to 3 units high.

NETWORK CABLE CONNECTORS: Sixteen RJ-45 shielded female at 100Mb: Category 5 UTP/STP at 10Mb: Cat. 3,4, 5 UTP UP-LINK: Use first RJ-45 port, which has two connectors (only one can be used at a time). Plug into # 1 for use as a regular user segment port, or into # 1X for use as a crossover (X position) up-link port for connection to a central hub or another cascaded hub.

POWER SUPPLY (INTERNAL): AC Power Connector: IEC-type, male recessed, rear of chassis Power Input Voltage: 90 to 260 VAC (auto ranging) Power Input Frequency: 47 to 63 Hz Power Consumption: 25 watts typical -48VDC POWER SUPPLY (OPTIONAL): Input: 36 - 72 VDC (auto-ranging) Terminal block, in rear: "-, GND, +" Power Consumption: 25 watts typical -48VDC DUAL-SOURCE (OPTIONAL): Magnum DS8016s may be ordered with optional Dual DC power input, for continuity of operation when either one of the DC input sources is interrupted.

MECHANICAL: Enclosure: Rugged high-strength sheet metal. Suitable for standalone or rack-mounting. Metal brackets for 1U rack-mounting included. "Reverse" rack mounting models optional. Dimensions: 1.75 in H x 17 in W x 9 in D (4.4 cm x 43.2 cm x 22.9 cm) Weight: 4.0 lb. (1.8 kg) Cooling Method: Fan cooled, internal 9cfm

LED INDICATORS ON CHASSIS: POWER: Steady on when power applied BR: Steady on, unit has bridge inside COL 10 : Collision indicator, for 10Mb domain COL 100: Collision indicator, for 100Mb domain

LED INDICATORS PER RJ-45 PORT: 100: Speed, steady on when the port senses operation at 100Mb speed, off for operation at 10Mb, blinking for no operation. LK/RX: Illuminated when twisted pair LINK is operational, flashes (very rapidly) to indicate there is Receive Activity on the port. AGENCY APPROVALS: UL Listed (UL1950), cUL, CE Emissions meet FCC Part 15, Class A

WARRANTY: Three years Made in USA
- Purchase orders accepted on GarrettCom, Inc. equipment
- Contract Buying and Volume Discounts available !!
- Please contact us 301-924-7400