GarrettCom 3000-Series
12 and 24 ports, copper, NEBS Certified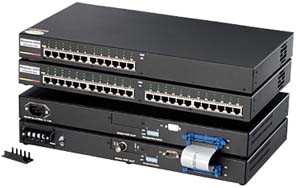 Call us for Pre-sales and discount pricing on
Garrett Magnum 3000-Series, 12 and 24 ports, copper, NEBS Certified
301-924-7400 Support
GarrettCom 3000-Series 12 and 24 ports, copper, NEBS Certified
Features
• 24-port and 12-port stackable 10BASE-T hubs with low cost of ownership and high port density
• Optional SNMP agent as separate box unit or embedded board module
• Durable metal enclosure i n - corporates internal universal power supply. 19" RETMA rack-mount brackets included. Optional ETSI and 23" Telco brackets available
• Available options include: SNMP agent, -48VDC, 24VDC, or 125VDC power, dualsource, NEBS and ETSI certification, EMI Class A , extended temperature range operation, and bonus port modules
Description
Magnum 3000 Stackable Hubs provide a full line of features and options to economically support Ethernet networks. For demanding applications where the best quality and the highest reliability is needed, thousands of Magnum 3000s have been installed. These products have proven themselves to be the "best of breed" in 10Mb Ethernet Hubs. Two building-block hub models are available, with 24 and 12 shielded twisted-pair ports. LEDs at each port indicate network status. A rear bonus port provides for optional backbone media connectivity, typically using a fiber port module. Magnum 3000 stacks may include Magnum 3000X Mixed-Media Concentrators to configure a network solution for any environment. The design of the Magnum 3000 Stackable line incorporates an Inter-Repeater Bus (IRB) so that users can interconnect multiple units of the same or different types in a stack that operates as one logical unit, with or without SNMP management. An SNMP agent is available for Magnum 3000 stacks. One SNMP agent, installed anywhere in the stack, collects data and executes local port controls for the entire stack and all associated Ethernet segments. The Magnum 3000 stack can be managed by any of the network management products that support industrystandard SNMP agents, or by a Windows PC-based Network Management System software platform with graphical icons. The Magnum 3000 Hubs and all Magnum products are designed and manufactured in the USA and are backed by a threeyear warranty.
Specifications
PERFORMANCE: Data Rate: 10Mbps RPM Partitioning: Enforced after 32 consecutive collisions RPM Reconnect: Occurs after 512 bits of error-free transmission
MAXIMUM STANDARD ETHERNET LENGTHS: DTE (AUI drop cable): 50m 10BASE-T (twisted pair): 100m 10BASE2 ThinNet: 185m 10BASE5 ThickNet: 500m 10BASE-FL Multi-mode Fiber Optic: 2.0km Single-mode Fiber Optic 10.0km NETWORK STANDARDS: Ethernet V1.0/V2.0, IEEE 802.3; 10BASE-T, 10BASE2, 10BASE5, DTE, 10BASE-FL
OPERATING ENVIRONMENT: Ambient: 25° to 120°F (-5° to 50°C), optional extended range Storage: -40°to 185°F (-40°to 85°C) Ambient relative humidity: 5% to 95% (non-condensing) Altitude: -200 to 13000ft (-60 to 4000m) Conformal coating option: Request quote
AC POWER SUPPLY (INTERNAL): Power Input: 90-260vac 47 - 63 Hz Power Consumption: Model 3024: 14 watts typical, 26 watts max. Model 3012: 10 watts typical, 20 watts max. Agent Box: 12 watts typical, 15 watts max. DC POWER SUPPLY OPTIONS: -48VDC: Input -36 to -70VDC 24VDC: Input 20 to 40VDC 125VDC: Input 120 to 160VDC Std. Terminal Block: "-, GND, +", Power Consumption: Same as AC DC DUAL POWER SOURCE (OPTIONAL): The Magnum 3000s may be ordered with optional Dual DC power input, for continuity of operation when either one of the DC input sources is interrupted. Available for -48VDC, 24VDC, and 125VDC input types. C
ONNECTORS: SNMP Agent Serial Port: RS-232, DB-9 "P1" on rear panel IRB: 34-pin socket connector A shielded ribbon cable assembly suitable for an IRB daisy chain is included with each unit
MECHANICAL: Enclosure: Rugged high-strength sheet metal. Suitable for stand-alone or 1U rack mounting. Rack-mounting brackets: 19" included; ETSI and 23" Telco optional. Dimensions: Models 3012, 3024 and Agent Box: 9.0 in x 17.0 in x 1.755 in (22.9 cm x 43.2 cm x 4.45 cm) Weight: Model 3024: 5.0 lbs (2.3 Kg) Model 3012: 4.0 lbs (1.8 Kg) Agent Box: 3.5 lbs (1.5 Kg) Cooling Method: Convection (when a 3024 has an internal Agent Board, it is cooled with a 7 cfm internal fan.)
LED INDICATORS: PWR: Steady on when power applied LINK: Steady on when twisted pair link is operational. Flashing when the port is partitioned by hardware RX: Blinks when there is activity on the port A
GENCY APPROVALS: UL Listed (UL1950), cUL, CE Meets FCC Part 15, Class A ETSI and NEBS L3 Certified versions available
WARRANTY: Three years Made in USA
GarrettCom 3000-Series Ordering
- Purchase orders accepted on GarrettCom, Inc. equipment
- Contract Buying and Volume Discounts available !!
- Please contact us 301-924-7400