GarrettCom 200X, Two-port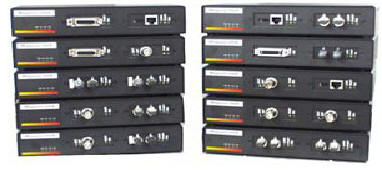 Call us for Pre-sales and discount pricing on Magnum 200X, Two-port
301-924-7400 Support
GarrettCom 200X, Two-port
Features
• Extends network distances beyond standard limits while maintaining network performance
• Supports all standard Ethernet media types, with repeater units for both mixed-media and homogenous segments
• Ensures data integrity through comprehensive signal quality maintenance, including automatic partitioning and reconnection
• Complies with Ethernet V1.0/2.0 standards; IEEE 802.3 with full repeater functionality
• Durable metal enclosure, internal auto-ranging power supply.

Description
Magnum 200X Two-Port Repeaters easily and cost-effectively expand Ethernet networks when Ethernet media distance limits are not sufficient or when different media types need to be connected in a single link. The Magnum repeater models support all standard Ethernet media types (BNC, AUI, twisted pair, and fiber optic) to allow users to extend network distances. When media type preferences change or when networks lengthen with system growth, the ability to convert media types while ensuring standard signals on both network segments saves time and money. The Magnum 200X series also support all media type combinations. The full-featured modular media connectors for Magnum 200X repeaters offer media-specific features for application convenience. The BNC module's internal termination switch eliminates the need for a tee connector. The AUI module's slide-lock ensures secure cable connections. The twisted pair module has a shielded port connector and is switchable between a user segment and an up-link segment without special crossover cables. The fiber module supports both the 2.0 Km 10BASE-FL specifications. All modules have diagnostic / status LEDs next to the port connectors. The Magnum 200X units have an internal auto-ranging power supply. Optional brackets for rack mounting are available. The Magnum Two-Port Repeaters and all other Magnum products are designed and manufactured in the USA and are backed by a three year warranty.
Specifications
PERFORMANCE: Data Rate: 10 Mbits / second Partitioning: Enforced after 32 consecutive collisions Reconnect: After 512 bits of error-free transmission

NETWORK STANDARDS: Ethernet V1.0/V2.0, IEEE 802.3;10BASE-T, 10BASE2, 10BASE5,DTE, FOIRL, 10BASE-FL MAXIMUM
STANDARD ETHERNET LENGTHS: 10BASE-FL mm Fiber Optic 2.0 Km Single-mode Fiber Optic 10.0 Km DTE (AUI drop cable)50 m10BASE-T (twisted pair)100 m 10BASE2 ThinNet 185 m 10BASE5 ThickNet 500 m

CONNECTORS: Two Magnum RPM ports EC-type AC power in rear RPM-FST: 1 fiber optic multi-mode, ST-type connector. RPM-FSM: 1 fiber optic single-mode, ST-Type connector RPM Types are: RPM-BNC: 1 BNC connector, internal terminal switch RPM-AUI: 1 AUI (DB-15 fem.) connector; slide-lock RPM-TP: 1 RJ-45 female twisted pair connector, up-link switch All RPMs can also be used with other Magnum "X series" products)

OPERATING ENVIRONMENT: Ambient Temperature: 32° to 120°F (0° to 50°C) Storage: -20°C to 60°C Ambient Relative Humidity: 10% - 95% (non-condensing) 200X

PACKAGING: Designed for rack or shelf mounting Enclosure: High-strength sheet metal Dimensions: 5.4 in D x 8.5 in W x 1.75 in H (13.7 cm D x 21.6 cm W x 4.45 cm H) Weight: 2.5 lb. (1.1 Kg) Cooling Method: Convection Internal Power Supply Power Input: 90-260 vac, 47-63 Hz, auto-ranging Power Connector: IEC recessed male, rear-mounted Power Consumption: 12 watts max

LED INDICATORS : PWR: Steady on when power applied COL: Flashes yellow to indicate a collision has been detected JAB: Steady on amber indicates jabber (illegal packet length condition LINK (per port): Steady on green shows the connection (Fiber and TP only) is made at both ends, segment is ready. Other LEDs may be on individual ports depending on media type, see RPM specs. AGENCY APPROVALS: UL listed (UL1950), cUL, CE Meets FCC Part 15, Class A

WARRANTY: Three years Made in USA Ordering Information
- Purchase orders accepted on GarrettCom, Inc. equipment
- Contract Buying and Volume Discounts available !!
- Please contact us 301-924-7400