GarrettCom 1000-Series 8, 16, and 24 ports, Copper only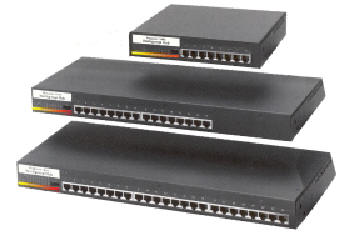 Call us for Pre-sales and discount pricing on Garrett Magnum 1000-Series, 8, 16, and 24 ports, Copper only 301-924-7400 Support
GarrettCom 1000-Series, 8, 16, and 24 ports, Copper only
Features
• 24-port, 16-port, and 8- port 10BASE-T hubs with low cost of ownership and high port density
• Low cost, flexible "plug and play" Ethernet connectivity solution for workgroups
• Rear bonus port provides optional backbone connection of any media type
• Durable metal enclosure incorporates internal autoranging AC universal power supply
• Optional -48VDC, 24VDC, or 125 VDC power supply for industrial environments

Description
Magnum 1000 Workgroup Hubs provide a rugged industrial solution for networking small-to-medium-sized node groups via shielded or unshielded twisted-pair cabling. Magnum Workgroup Hubs are full-function Ethernet 10Mb repeaters that can operate as stand-alone hubs or interconnect into larger networks of any media type. Magnum Workgroup Hubs Models 1008, 1016, and 1024 offer eight, 16, or 24 front-mounted shielded RJ-45 ports respectively, plus one or two additional special-purpose ports in the rear. One front RJ-45 port has a switch for use as an up-link port to another hub or concentrator. The robust units have a metal enclosure, front-mounted status LEDs, and an internal power supply. They may be rack-mounted or installed in a wiring closet, or on a shelf or table-top. For installation and operational flexibility, Magnum 1000s can be configured with a repeater port module in the bonus port slot to provide interconnection to a backbone, or to a user or special device, via any media type. Magnum 1000-Series 10Mb Hubs are compatible with all networking software environments and support full-length twistedpair segment distances. All models fully support the V2.0/IEEE 802.3 10Mb Ethernet specification. The Magnum 1000-Series Hubs and all Magnum products are designed and manufactured in the USA and are backed by a three-year warranty.
Specifications
PERFORMANCE: Data Rate: 10Mb RPM Partitioning: Enforced after 32 consecutive collisions RPM Reconnect: Occurs after 512 bits of error-free transmission

MAXIMUM STANDARD ETHERNET LENGTHS: DTE (AUI drop cable): 50m 10BASE-T (twisted pair): 100m 10BASE2 ThinNet: 185m 10BASE5 ThickNet: 500m 10BASE-FL Multi-mode Fiber Optic: 2.0km Single-mode Fiber Optic 10.0km

NETWORK STANDARDS: Ethernet V1.0/V2.0, IEEE 802.3; 10BASE-T, 10BASE2, 10BASE5, DTE, 10BASE-FL

OPERATING ENVIRONMENT: Ambient: 32° to 120°F (0° to 50°C) Storage: -5°to 140°F (-40°to 70°C) Ambient relative humidity: 10% to 95% (non-condensing) Conformal coating (humidity protection) option: Request quote

AC POWER SUPPLY (INTERNAL): AC Power Connector: IEC recessed male, rear mounted Power Input: 90-260vac (auto ranging) 47 - 63 Hz Power Consumption: Model 1008: 4 watts typical, 6 watts max. Model 1016: 6 watts typical, 8 watts max. Model 1024: 8 watts typical, 10 watts max. DC POWER SUPPLY OPTIONS: -48VDC: Input -36 to -70VDC 24VDC: Input 20 to 40VDC 125VDC: Input 120 to 160VDC Std. Terminal Block: "-, GND, +", Power Consumption: Same as AC

CONNECTORS Front Ports: Model 1008: 8 shielded RJ-45s Model 1016: 16 shielded RJ-45s Model 1024: 24 shielded RJ-45s Bonus Port: 1, for any Port Module (PM).

MECHANICAL: Enclosure: Rugged high-strength sheet metal. Suitable for standalone or 1U rack mounting. 19" rack-mount ears included on 16- and 24-port models. ETSI and 23" Telco optional on 16- and 24- port models. Dimensions: Model 1008: 8.5 in x 7.5 in x 1.75 in 21.6 cm x19.7 cm x 4.45 cm Models 1016/24: 17.0 in x 7.75 in x 1.75 in 43.2 cm x 19.1cm x 4.45 cm Weight: Model 1008: 3.4 lbs (1.6 Kg) Model 1016: 3.4 lbs (1.4 Kg) Model 1024: 3.4 lbs (1.5 Kg) Cooling Method: Convection

LED INDICATORS: PWR: Steady on when power applied ACT: Common activity indicator LINK: Per port, steady on when twisted pair link is operational. Flashing when the port is partitioned by hardware. AGENCY APPROVALS: UL Listed (UL1950), cUL, CE Meets FCC Part 15, Class A

WARRANTY: Three years Made in USA
GarrettCom 1000-Series Ordering
- Purchase orders accepted on GarrettCom, Inc. equipment
- Contract Buying and Volume Discounts available !!
- Please contact us 301-924-7400