GarrettCom Fiber Mini-Transceivers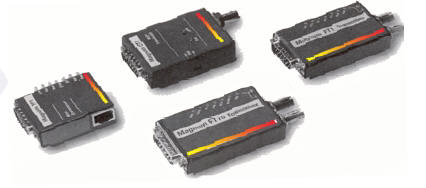 Call us for Pre-sales and discount pricing on Garrettcom Fiber Mini-Transceivers
301-924-7400 Support
Garrettcom Fiber Mini-Transceivers
Features
• Comply with IEEE 802.3 standard and are compatible with Ethernet Version 1.0 and 2.0 • Provide full set of LED indicators for status and local network traffic information • Offer switch-selectable operating parameters for custom configurations • Support twisted pair, ThinNet, and fiber network cabling requirements • Compact, rugged metal case

Description
Magnum Mini-Transceivers offer cost-effective connectivity for twisted pair (RJ-45), ThinNet (BNC) and fiber (multi-mode and singlemode) network media from any workstation or device configured with an Ethernet AUI port. Their compact size permits installation even in tight spaces.

Each unit is compatible with Ethernet V1.0 and V2.0, and compliant with IEEE 802.3 standards. For RJ-45, BNC, and fiber applications, the user has a choice of the TP1, CT1, and FT10 full-featured, compact models. The FT1 fiber unit supports multi-mode fiber for FOIRL and 10BASE-FL links. The FT10 unit supports single mode fiber for very long fiber cable distances.

Micro switches on the full-featured Magnum Mini-Transceivers simplify the job of network setup by supporting a variety of configurations. All units feature a full complement of built-in LED indicators (see table on back) that display essential diagnostic and network segment status information.

Magnum Mini-Transceivers are designed to provide low-temperature operation over extended periods, making them some of the most reliable in the industry. Their high-strength fabricated metal packaging shields against Radio Frequency Interference (RFI) and Electromagnetic Interference (EMI).

All Magnum Mini-Transceivers are FCC and VDE compliant. The Magnum family line of Mini-Transceivers and all Magnum products are designed and manufactured in the USA and are backed by a three-year warranty.
Specifications
PERFORMANCE: Data Rate: 10Mbps MAXIMUM STANDARD ETHERNET LENGTHS:
DTE (AUI drop cable): 50m 10BASE-T (twisted pair): 100m Shielded Twisted pair: 150m 10BASE2 ThinNet: 185m 10BASE5 ThickNet: 500m FOIRL mm Fiber Optic: 1.0Km 10BASE-FL mm Fiber Optic: 2.0Km Single-mode Fiber Optic: 10.0Km NETWORK STANDARDS: Ethernet V1.0/V2.0, IEEE 802.3; 10BASE-T, 10BASE2, 10BASE5, DTE, FOIRL, 10BASE-FL

OPERATING ENVIRONMENT: Ambient: 32° to 120°F (0° to 50°C) Storage: -20°C to 60°C Ambient relative humidity: 5% to 95% (non-condensing) Note: Shielded 10BASE-T connectors accept either unshielded or shielded wiring plugs for standard twisted pair media wiring.
CONNECTORS AUI (all models): D-Sub 15 male, connector with locking posts RJ-45 twisted pair Port (TPs): Eight-Pin Female shielded BNC Port (CT1): standard BNC female RG-58 ThinNet Fiber Port (FT1): Std multi-mode, ST-type Fiber Port (FT10): Single mode, ST-type

PACKAGING: Mounts on AUI connector with slide-lock, designed for thin "Sunsize" slots Enclosure: High-strength sheet metal Dimensions: TP1: 1.75 in H x 2.3 in W x 0.75 in D (4.5 cm x 6.0 cm x 1.9 cm) CT1:1.75 in H x 2.7 in W x 0.75 in D (4.5 cm x 6.9 cm x 1.9 cm) FT1: 1.6 in H x 2.5 in W x 0.63 in D (4.0 cm x 6.4 cm x 1.6 cm) FT10: 1.6 in H x 2.5 in W x 0.63 in D (4.0 cm x 6.4 cm x 1.6 cm) TP1a: 1.5 in H x 2.9 in W x 0.8 in D (4.2 cm x 6.0 cm x 1.9 cm) Weight TP1: 3.4 oz (97 g), TP1a 2.3 oz (67 g) CT1: 4.2 oz (120 g) FT1 and FT10: 2.5 oz (79 g) Cooling Method: Convection

AGENCY APPROVALS: UL Listed (UL1950), CSA Certified Meets FCC Part 15, Class A, VDE Class B

WARRANTY: Three years Made in USA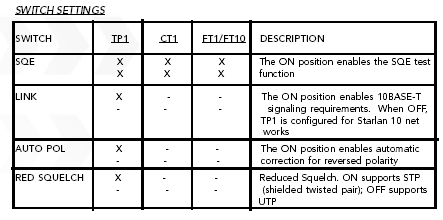 LED INDICATORS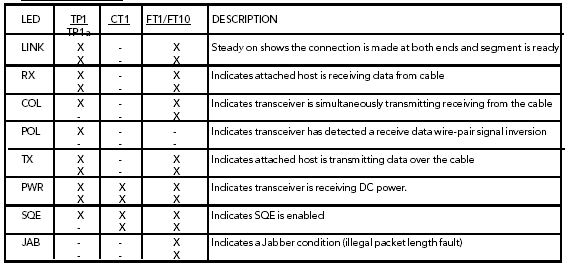 - Purchase orders accepted on GarrettCom, Inc. equipment
- Contract Buying and Volume Discounts available !!
- Please contact us 301-924-7400