GarrettCom 6K25 Managed Fiber Switch 4 Modular Slots for User-selection of 100 Mb 10 Mb Gigabit Fiber Ports 10/100 copper ports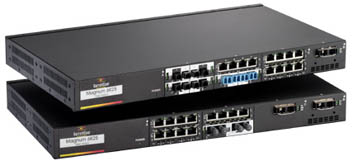 Call us for Pre-sales and discount pricing on Garrett 6K25 Magnum Switch NEBS Certified
301-924-7400 Support
GarrettCom 6K25 Switch:

Magnum™ 6K25 Managed Fiber Switches provide the flexibility of both 100 Mb fiber and copper ports,10 Mb fiber and copper ports, as well as Gigabit ports and management software. Featuring SFF (Small Form Factor) 100 Mb fiber port connectors, high-capacity high-performance fiber switching services are delivered in a robust 1U rack-mount package designed for the most demanding Industrial and Carrier Class applications.
The port modules allow user-selection of mixed-media fiber (all connector types, multi- and single-mode) and 10/100 Mb RJ-45 auto-negotiating ports. Standard GBIC ports can be configured for a variety of Gigabit fiber cabling types and distances.
High performance hardware features include non-blocking speed on all ports and 802.1p QoS Traffic Prioritization. Magnum 6K25s are "plug and-play" ready for use as backbone switches where a mix of bursty data traffic and priority streaming traffic for VoIP and audio/video applications is present.
The Magnum 6K25 Fiber Switches are provided with LAN software support including SNMP management control via command line interface, RMON, SNMPc™ and Openview™ for Windows, and Port Security support. See the Managed Networks Software (MNS) datasheet for additional details on the comprehensive set of software packages and options.
The Magnum 6K25 Switches enhance LAN flexibility by allowing a combination of mixed-media modules and port types. Magnum 6K25s
are ideal for building a switched fiber network infrastructure when used in applications connected to routers, hubs, or other switches. Designed for use in Industrial networks and Plantwide LAN centers with numerous segments requiring Gigabit backbone interconnections among network centers, the Magnum 6K25 is easy to install and operate. Addresses of attached nodes are automatically learned and maintained, adapting the switching services to network changes and expansions to provide plug and-play operation.
Magnum 6K25 Managed Fiber Switches have rugged metal cases and auto-ranging power supplies for operation with standard AC power
worldwide. Internal DC power supplies are optional. The 6K25s and all other Magnum products are designed and manufactured in the USA and backed by a three year warranty.

GarrettCom 6K25 Data Sheet
- Purchase orders accepted on GarrettCom, Inc. equipment
- Contract Buying and Volume Discounts available !!
- Please contact us 301-924-7400