GarrettCom 100Mb 15E Media Converters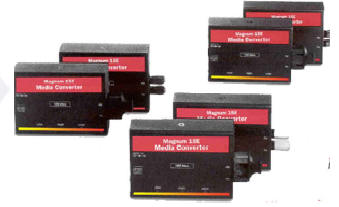 Call us for Pre-sales and discount pricing on GarrettCom 100Mb 15EMedia Converters
301-924-7400 Support
GarrettCom 100Mb 15E Media Converters
Features
• Provides Fast Ethernet media conversion from twisted pair to fiber
• Available with fiber connectors for either SC or ST types, multi-mode or singlemode
• Full or half-duplex mode operation, transparent
• Complies with 100Mb/s Fast Ethernet standards, IEEE 802.3u
• Comes with a compact durable metal enclosure, has an external power supply
Description
Magnum™ 15E Media Converters offer a compact, cost-effective way to incorporate fiber media into a Category 5 TX-based Fast Ethernet network. They cost significantly less than full repeaters and do not use as much of the Fast Ethernet cable and repeater distance budget.

Each Magnum 15E transparently supports both half- and fullduplex operation, and can be used in any Fast Ethernet network application. The up-link switch on the Magnum 15Es TX port allows the units to gracefully fit into any installation, without crossover cables. When the Magnum 15E is used to convert a 100Mb/s RJ-45 shared or switched hub port to fiber media, the up-link switch is set to the "X" position. When the Magnum 15E is used to convert a fiber link to the RJ-45 port of a NIC card or workstation, the up-link switch is set to the "=" position. Category 5 twisted-pair cable should be used to connect to the TX port.

Separate LEDs indicate LINK status for each port, lighting when the associated cable segments are properly connected at both ends and are ready for data transmission. Collisions (if any) are not detected, and 15Es operate properly when connected to either FDX or HDX ports. 15Es do not respond to auto-negotiation FLP requests.

The Magnum 15E Media Converters meet the IEEE 802.3u specifications and are interoperable with other standards-compliant Fast Ethernet products. They have a 115vac 60Hz or 230vac 50Hz external power supply that plugs into a nearby AC wall socket or power strip. The compact packaging, about the size of a bar of soap, does not require rack space and can be conveniently mounted in an office, or out-of-the-way wiring closet area. Metal brackets for optional wall mounting are included.

The Magnum 15E Media Converters and other Magnum products are designed and manufactured in the USA and backed by a three-year warranty.
Specifications
PERFORMANCE: Data Rate: 100 Mbits / second Half-or Full-Duplex, transparent NETWORK STANDARDS: Ethernet IEEE 802.3u: 100BASE-TX, 100BASE-FX Magnum 15E Media Converters are physical-layer Ethernet products and operate independent of all software.

OPERATING ENVIRONMENT: Ambient Temperature: 32° to 120°F (0° to 50°C) Storage: -5°to 140°F (-20°to 60°C) Ambient Relative Humidity:10% - 95% (non-condensing)

POWER SUPPLY (EXTERNAL): Power Input Voltage: 95 to 125vac at 60Hz for "-d" models; 100-240 vac at 50-60Hz for "-i" models with IEC power cable connection Power Consumption: 4 watts typical

NETWORK CABLE CONNECTORS: 100BASE-TX: RJ-45 shielded, female (accepts EIA 568 Category 5 UTP and STP data-grade twisted pair cable) 100BASE-FX-SC: fiber optic multi-mode and singlemode with SC-type "snap-in" connector 100BASE-FX-ST: fiber optic multi-mode and single-mode with ST-type "twist-lock" connector

SWITCHES: UP-LINK: MDI-X thumb-operated slide switch, converts RJ-45 TX Port from a regular (= position) user segment port to a crossover (X- position) up-link port for connection to a shared or switched hub.

LED INDICATORS: PWR: Steady ON for power applied LINK (2) : Steady ON when attached twisted-pair or fiber cable segment is operational. MECHANICAL: Enclosure: Rugged high-strength sheet metal. Suitable for wiring closet shelf, desktop, or rack -mounting. Wallmount brackets included. Dimensions: 2.75 in H x 3.75 in W x 1.0 in D (6.9 cm x 9.5 cm x 2.5 cm) Weight: 0.6 lb. (275 gr.) ; power supply 1.0 lb. (455 gr.) Cooling Method: Convection

AGENCY APPROVALS: UL Listed (UL1950), cUL, CE Emissions meet FCC Part 15, Class A

WARRANTY: Three years Made in USA
- Purchase orders accepted on GarrettCom, Inc. equipment
- Contract Buying and Volume Discounts available !!
- Please contact us 301-924-7400