Draytek VigorPro 5510 UTM Firewall
with Anti-Virus & Anti-Spam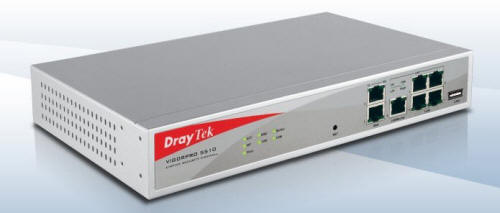 Anti-Virus, Anti-Intrusion & Anti-Spam

Deep Packet Inspection with DrayTek MSSI?

Load Balancing & Failover between WAN ports

Intrusion Detection & Prevention (Inline, Realtime)

DoS/DDos Protection & Stateful Packet Inspection

VPN - Up to 200 concurrent tunnels

VPN Trunking - Increase VPN bandwidth - New

3G USB modem connectivity for WAN backup

QoS (Quality of Service) Assurance

Parental Control/Categorical Web Site Filtering

Web Content Filtering

Five Gigabit Ethernet LAN ports
DrayTek VigorPro Unified Security Firewall
The DrayTek VigorPro Security Firewall featuring UTM (Unified Threat Management) protects from network threats at the point of entry. Combined with your own prudent personnel policy, the DrayTek VigorPro enables you to provide far stronger protection and detection than with simpler firewalls. This includes built-in real-time anti-virus scanning, Anti-Spam, anti-trojan and Intusion detection/protection. VPN facilities also make the DrayTek VigorPro ideal for your world connecitivity for remote offices and teleworkers.
The DrayTek VigorPro also provides two WAN ports to allow you to have load balancing/bandwith aggegation across two separate WAN feeds, or use the secondary WAN port as a backup on another feed in case your first Internet feed (e.g. broadband connection) fails. In summary, the DrayTek VigorPro provides your network with far greater security, productivity and resilience.
Conventional firewalls are blind to today's attacks, and also cannot detect inappropriate e-mail and Web content. The most common solution is a complex, costly collection of independent systems to deal with each of these threats along with network-level intrusions and attacks.
SSL VPN Application Without the necessity of installing VPN client on individual PC, the Secure Socket Layer (SSL) virtual private network (VPN) facility lets remote workers connect to the office network at any one time. SSL is supported by standard web browsers such as FireFox and IE. For users of small offices and teleworkers who need to access enterprises's internal applications, file server and file sharing, DrayTek VigorPro5510 UTM series allow up to 50 concurrent SSL sessions.


Network-level Protection Conventional way to protect against virus or malicious program, requires each host to install software on the host. To install software on a large number of hosts is a time consuming process. To evaluate the vulnerabilities, both scan engine and database of virus pattern need constant upgrade. It is very costly and annoying for IT personnel with high maintenance. DrayTek VigorPro 5510 series works as firewall as well as Internet gateway, it will block any attacks at the point of network entry. Through the web user interface, the network administrator can monitor and instruct the DrayTek VigorPro 5510 series to look for all hosts inside network edge before threats intrude.


Hardware-accelerated, Real-time Response The DrayTek VigorPro 5510 series employs an unique, hardware-accelerated architecture that provides the ability to perform real-time security without slowing down critical network applications, such as Web traffic. Software-based anti-virus solutions, which are designed for scanning non-real-time email messages, are too slow to be used to scan Web traffic or other real-time network applications.


Content-based Inline Inspection Conventional firewalls only inspect packets connection behavior to against any connection-based attack. While the content-based threats today. such as virus, worms, Trojans or banned content, which spread faster and do more damage. Conventional firewalls bypass the widely spread content-based threat and expose internal network to outside world. DrayTek VigorPro5500 series deploys DrayTek's unique MSSI? (Multi-stack Stateful Inspection) mechanism. With MSSI? , DrayTek VigorPro5500 series inspects packet streams, compares any suspected content or behavior with build-in database in real-time, and provide inline anti-virus and anti-intrusion protection.


3G Application DrayTek supports 3G HSDPA USB Modem via USB port of DrayTek VigorPro 5510 series from firmware version V3.2.2 and above. It is a good application for the mobile sharing environment.

For 3G mobile communication through Access Point is popular more and more, DrayTek VigorPro 5510 series adds the function of 3G network connection for such purpose. By connecting 3G USB Modem to the USB port of DrayTek VigorPro 5510 series, it can support HSDPA/UMTS/EDGE/GPRS/GSM and the future 3G standard (HSDPA, etc). DrayTek VigorPro 5510 series with 3G USB Modem allows you to receive 3G signals at any place such as your car or certain location holding outdoor activity and share the bandwidth for using by more people. Users can use four LAN ports on the router to access Internet.