Draytek VigorIPPBX 2820
Vigor IP PBX 2820
DrayTek VigorIP PBX 2820N



The DrayTek VigorIPPBX 2820 is an ADSL2+ router with IP PBX function and 2nd Ethernet WAN. This 2nd WAN can connect to DSL/Cable modem or fiber media converter for policy-based load-balance, fail-over and BoD (Bandwidth on Demand); it also features advanced bandwidth control mechanism such as IP-layer QoS, NAT Session Limitation, Bandwidth Borrowed, etc., to allow easy, flexible, reliable access control and bandwidth management.

The SPI (Stateful Packet Inspection) firewall uses object-based design to make settings of firewall policies easy. The CSM (Content Security Management) feature allows more precise and efficient access control for URL/Web Content Filtering, IM (Instant Messenger) and P2P (Peer to Peer) applications. With hardware-based implementation of the VPN protocols, the DrayTek VigorIPPBX 2820 supports up to 32 VPN tunnels using advanced protocols such as IPSec/PPTP/L2TP/L2TP over IPSec with AES/DES/3DES for encryption and MD5/SHA-1 for authentication.

DrayTek VigorIPPBX 2820 can provide up to 50 extensions setup to let all registered IP phones in LAN or remote sites around the world to have unlimited free calls through Internet. Moreover, DrayTek VigorIPPBX 2820 is able to establish multiple networking architectures corresponding to your current desire and future needs of growing communication. Its ISDN/PSTN compatibility lets you move from simple VoIP solution such as IP phone and Softphone to integrate with comprehensive networking infrastructure, such as ISDN and Analog phone line any time you need.

DrayTek VigorIPPBX 2820 offers up to 50 IP phone registrations / extensions for cost-effective communication

DrayTek VigorIPPBX 2820 offers Up to 32 VPN tunnels for remote data access security

DrayTek VigorIPPBX 2820 give you Voice mail to Email function for not missing each important message

DrayTek VigorIPPBX 2820 has 2nd WAN ports (Ethernet) for policy-based load-balancing or fail-over

DrayTek VigorIPPBX 2820 has 2 ISDN ports simultaneously configurable NT/TE mode to meet various communication needs via cost-effective VoIP

DrayTek VigorIPPBX 2820 has 3.5G USB capability for activating Internet connection anytime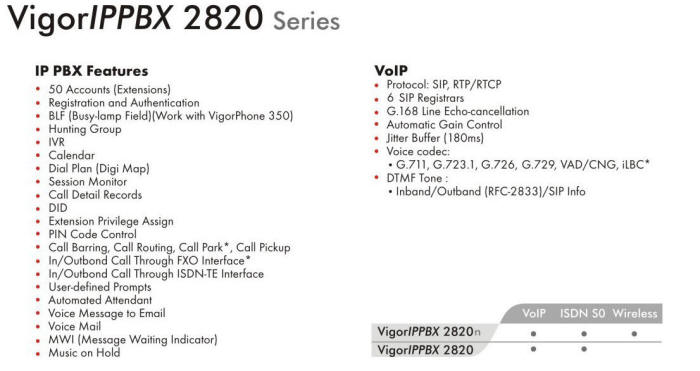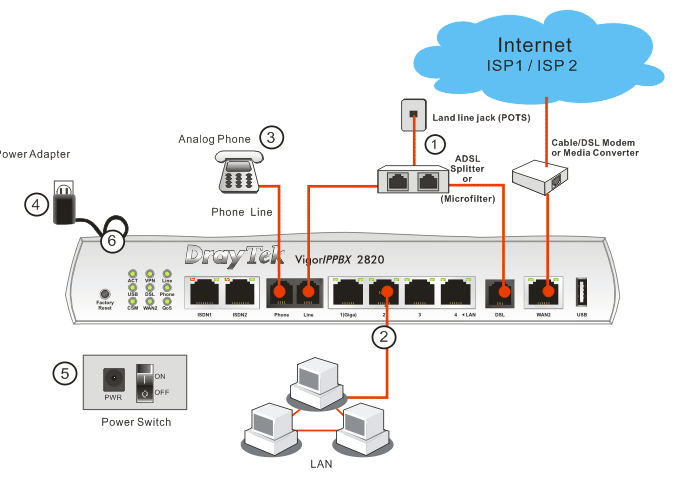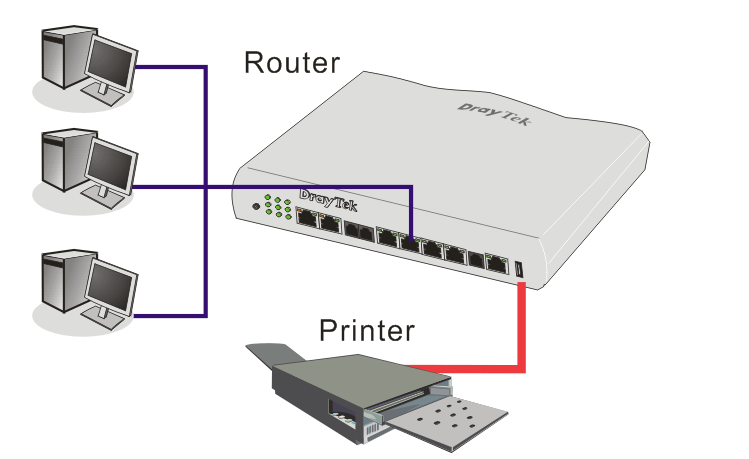 DrayTek VigorIP PBX 2820N Features 11N Wireless LAN