Draytek VigorFly 200 Wifi Router
Triple play on the road and at home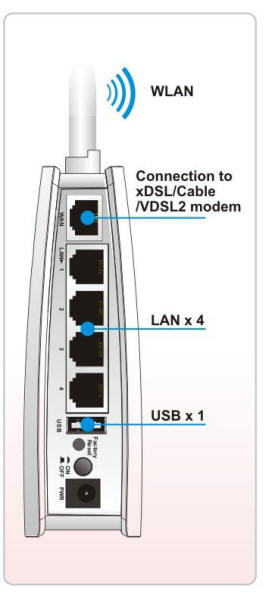 Even though broadband is now widespread in the world, there are still places and times that a viable access to the Internet is not available. You can connect a WIMAX data card to your laptop. However, there is limitation for sharing Internet connection. VigorFly 200 router is what you are looking for.
VigorFly 200 is a compact broadband router with 802.11n WLAN network. Its Ethernet WAN port can connect to VDSL/VDSL2/GPON/G.SHDSL/ADSL2+/ADSL/cable modem while you have fixed line. The NAT throughput can easily manage time-critical multimedia streaming. It's easy for family or friends to hook up PCs via embedded 10/100 Ethernet LAN switch to enjoy multimedia applications. Two antennas provide you with speedy WLAN networking. If you are out of coverage of fixed line, you can directly plug WiMAX USB modem to USB port on VigorFly 200. Or, you can use WiMAX USB modem with VigorFly 200. The sharing WiMAX connection accommodates adequate downstream/upstream capacity for residential needs.
The integrated 802.11n Draft 2.0 WLAN network which offers users stable and reliable wireless connections for high speed multimedia and data traffic by means of WMM (WiFi Multimedia). While coverage of WLAN network is extended by 802.11n, the Wireless Client list, the encryption methods of WEP/ WPA/WPA2 consist of better wireless security.
Moreover, VigorFly 200 provides enhanced security protection for your network. The DoS/DDoS attack prevention, SPI, Port-redirection, open port, and MAC address filter strengthens the security outside and inside the network.
1. WAN Protocol
DHCP Client
Static IP
PPPoE
PPTP
3.5G/4G WiMAX
2. Firewall
DMZ Host, Port-redirection and Open Port
ACL
MAC Address Filter
SPI (Stateful Packet Inspection)
DoS/DDoS Prevention
IP Address Anti-spoofing
E-mail Alert and Logging via Sys
log
VPN Pass-through (IPSec/PPTP/L2TP)
3. Network Feature
DHCP Server
DHCP Option
Dynamic DNS
NTP Client
UPnP
IGMP Proxy V2
DNS Cache/Proxy
Static Routing
4. Network Management
Web-based User Interface (HTTP)
Quick Start Wizard
CLI (Command Line Interface, Telnet)
Configuration Backup/Restore
Built-in Diagnostic Function
Firmware Upgrade via WUI
Administration Access Control
Logging via Syslog
Management Session Time Out
2-level User Name Management (Admin/User)
5. Wireless Access Point
IEEE802.11 b/g/n Compliant
Wireless Client List
64/128-bit WEP
WPA/WPA2
Hidden SSID
WPS
Multiple SSID
WMM (Wi-Fi Multimedia)*
6. Hardware Interface
4 x 10/100 Base-TX LAN Switch, RJ-45
1 x 10/100Base-TX WAN Port, RJ-45
2 x Detachable Antennas
1 x USB Host 2.0 (for 3.5G USB Modem)
1 x Factory Reset Button
1 x Wireless On/Off/WPS Button
7. USB
3.5G Backu-p
WiMAX Back-up