Draytek VigorAccess IVD
MSAN Multiservice Access Gateway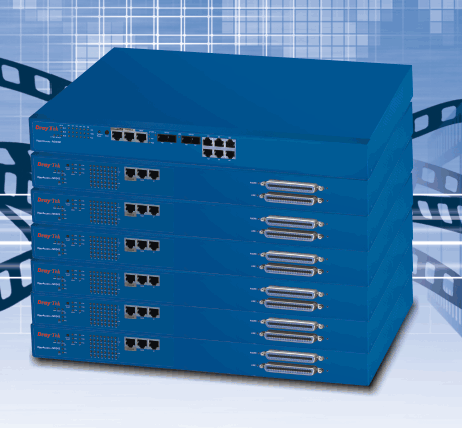 ADSL2/2+ high speed broadband for Triple play application

Multi-VoIP protocol, H.248, MGCP and SIP IVD for next generation voice service

Scalable architecture for flexible subscriber increase with low initial-investment

QoS Guaranteed function for prioritizing telephone traffic data

Broadband access for the building complex, community and campus

No new wiring required for cost-effective adoption

Single IP management capability for reducing maintenance overhead

Powerful Loop Diagnostic for DSL and voice loop

Multi-IOP vendor interoperability including Alcatel-Lucent, Utstarcom, Huawei, ZTE, Nokia Siemens Soft Switches
To meet the increasing demand for high-speed internet access and triple play application service. The next generation network offers a feasible functionality of integrated services with the most cost effective architecture.IP DSLAM network is designed to provide rich video contents, DSL, POTS and VoIP service over traditional copper wire infrastructure. These types of service will be supported on NGN architecture simultaneously. DSL is used as the data service platform, video and VoIP or traditional POTS technology is basis of the voice service. The multimedia and local content-rich applications can also be easily implemented on this NGN architecture. The IVD product combines VoIP, DSL on CO side to provide telecom class voice quality. The customer can call POTS phone and surf IPTV program simultaneously.
IVD can be easily configured by VigorCMS. The Vigor CMS system covers topology, configuration, deployment, security, alarm management and backup storage.


Figure 1. Front Panel (DrayTek VigorAccess IVD Master)
Figure 2. Front Panel (DrayTek VigorAccess IVD Slave)
---
Triple-Play Deployment The triple-play applications will be more popular and the DrayTek VigorAccess series support cost-effective delivery of data, voice and video services. The up to 24Mbps downstream, multiple PVCs, QoS, IGMP snooping and multicast capabilities can help you to offer the value-added services. Users can easily access Internet and use Stream TV, VoD and VoIP applications. Teleco can provide toll quality VoIP for subscriber.


Figure 3. Triple-Play Deployment
---
Community Application Many people live in the various high-density residential environment. The DrayTek VigorAccess series can offer building complex, campus or community a complete network with rich services. These services include video on demand. remote monitor, building security, product browsing, and local LAN. The advantages of the system architecture facilitate local content management and reduce the content access cost by minimizing traffic loading of the outgoing link. Teleco can integrate POTS to VoIP on CO side to reduce operation and maintenance fee of PSTN.


Figure 4. Community Application