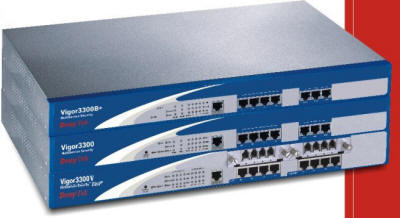 Single platform for integration of data, voice (IP Telephony) and video.

Robust firewall for securing against intruders/attackers and Denial-of-Service (DoS).

High performance hardware-based VPN device for small and medium level business companies.

DHCP over VPN IPSec (Automatic provisioning of proxy IP addresses).

NAT-T of VPN IPSec.

Remote, secure access VPN for e-commerce, mobile and telecommuting applications.

Web content filtering (Blocks access to inappropriate and non-productive venues).

Port-based and 802.1Q tag-based VLAN.

Bandwidth-guaranteed for VoIP and online game applications as well as critical business networking-zone.

Up to 3(3300B+/3300)/4(3300V) WAN interfaces for load sharing and load balancing.

Physical DMZ (De-Militarized Zone) ports for isolated security zones.

Easy installation, configuration, and management through user-friendly WEB interface and DrayTek VigorCMS.

QoS (Quality of Service) feature monitors, analyzes and allocates bandwidth in real time for business critical traffic.

Load Balancing solution ensures high availability for network and applications.

EMS management (DrayTek VigorCMS) for configuration management, topology management, security management, fault management and backup/restore storage management.

High availability provides a non-stop and reliability network access devices.

Fail-over provides a backup service for users to Internet.
The DrayTek Vigor 3300 series routers combine VPN enhancements like robust firewall, WEB content filtering, Guaranteed Bandwidth, remote management and administrative functions to meet increasing demands for higher security and reliability in today's broadband environment.
The DrayTek Vigor 3300 Security router provides additional IPSec VPN benefits that achieve highly scalable, confidential e-business objectives including branch office interconnectivity and remote access applications. By deploying the latest versions of encryption accelerators (i.e., DES/DES3-SHA-1/HMAC-MD-5), the DrayTek Vigor 3300 series routers affords low latency and higher performance IPSec VPN.
The series'robust firewall offers a rich suite of security features like stateful packet inspection (i.e., examines the contents of individual packets at ALL layers of the OSI stack), access control, packet filtering, blocks intrusions/attacks and Denial of Service (DoS). Additional protection is provided via programmable integrated content filtering that blocks inappropriate WEB content for home or business environments.
The QoS function (Quality of Service) ensures prioritized, dedicated bandwidth, controlled jitter and latency and reduced packet-loss characteristics.Load balancing or redundancy configurations provide reliable, un-interrupted traffic flows. Bandwidth can be increased (up to 400mbps) and traffic can be shared using multi-port WAN connections via the load balance feature. Simple re-configuration of WAN ports easily provides redundant, back-up capability.
Optional 4/8 port VoIP modules provide connection with any PBX, key system or simple analog phone.
The load balancing and high availability applications improve the network performance, scalability, reliability in Internet network and infrastracture utilization.
The SNMP-based of DrayTek VigorCMS is the management software to offers an easy way to remotely set up configurations, update system status, display alarm events, monitor system behaviors, perform diagnostics and download firmware and email attacking alert. For installation, status monitor, and management of DrayTek Vigor 3300 series of routers, it will be easily accomplished through a built-in Web user interface or Telnet command line interface.
This feature ensures a non-stop and reliable network access. Configured in a cluster arrangement of two redundant DrayTek Vigor3300 series Routers, traffic is automatically switched to the slave unit in the event of service interruption in the master unit.
MODULARIZED VoIP SLOTS
The DrayTek Vigor3300V is equipped with two VoIP slots, with each slot providing four FXO or FXS ports. A choice of SIP or MGCP VoIP protocols is available. The VoIP quality is guaranteed by QoS feature. It's easy to integrate to your PBX system and standard analog telephone sets to your telephone fee.
QoS (QUALITY of SERVICE)
The QoS feature enables the network administrator to monitor, analyze and allocate bandwidth in real time. Acting as the network traffic cop, QoS prioritizes traffic for mission critical applications.
ROBUST VPN
It supports up to 200 IPSec VPN tunnels simultaneously. Hardware-based DES/3DES/AES / HMAC-SHA-1/ HMAC-MD5 encryption provides high performance VPN connections. It can be put on the centeral office and co-work with other DrayTek Vigor CPE routers in the branch offices.
LOAD BALANCING and REDUNDANCY
For through-put reliability and sustained internet access, users have a choice of LOAD BALANCING or REDUNDANCY mode. Load balancing allows increased bandwidth (up to 400 mbps) and traffic sharing via multi-WAN connections. In the redundancy mode, the secondary WAN remains in hot standby as a back-up to the primary WAN.


FIREWALL SECURITY

The default security policy within a firewall denies hackers and/or other intruders access to internal LAN resources. A rich phalanx of protective barriers like access control, packet filtering, and denial of service (DoS) are inherent features of the DrayTek Vigor3300 series routers. Bolstering this array of firewall features is "stateful packet inspection" where all packets are individually analyzed to determine access or denial to the LAN.